2022 North America Region Conference gathers accountancy network members from across the region in Austin, Texas
MGI North America was very pleased to hold its first in-person conference in several years due to the pandemic. The conference was well-attended by over 60 representatives from nearly every NA member firm, members of the NA Executive Management Group, and the MGI Worldwide Executive Committee. It was wonderful to reconnect with many long-time friends and colleagues and see so many new acquaintances collaborating and forming lasting connections.
Austin, Texas
With the fabulous city of Austin, Texas as our destination, and the beautiful W was our host hotel, conference attendees enjoyed all that the Live Music Capital of the World® has to offer. With vibrant entertainment, art, culture, and history, inspiring cuisine and stunning outdoor experiences, Austin lets visitors create their own playlist.
The pre-conference event on Wednesday evening was a lively and fun group dinner at the Moonshine Grill Restaurant. Attendees enjoyed delicious local, classic Austin style cuisine in an ideal setting for networking with fellow members.
Watch the 2022 North America Region Conference video here:

Agenda highlights
On Thursday morning, Joe Tarasco, North America's Regional Director, welcomed everyone and kicked off the conference. Harrison Eppright, Manager of Visitor Services for "Visit Austin" and historian, provided a warm Austin welcome. Born and raised in Austin, Harrison was proud to share an overview of the city's history, and recommendations on must-see sites and to dos while visiting.
The North America and International Leadership and Executive Committee members provided an overview of the strategic plan and an outlook for the remainder of 2022. Members were very pleased to meet Chris Borneman, MGI Worldwide's new Chief Executive Officer, and express their gratitude and reflect on many great memories with Clive Viegas Bennett, MGI Worldwide's Outgoing CEO.
Conference Keynote Speaker Olympian Johnny Quinn presented a very lively, exhilarating, and motivational keynote address. Johnny inspired our members, as he shared his insights, experiences, and challenges as a professional football player and an Olympian for the U.S.A. Johnny brought copies of his book 'Push, Breaking Through the Barriers,' which he autographed, and he was very happy to interact and take photos with our attendees.
Our Thursday afternoon session focused on Practice Management roundtable topics where members discussed the most pressing issues and trends in the public accounting industry. The session was organized by the Management of an Accounting Practice Committee and the Managing Partners Committee and topics included Recruiting & Retention, Succession Planning and Leadership, Transitioning and Planning, Managing Staff Performance, Technology, and Growth.
Conference attendees also tested their team building skills during an interactive escape room session.
On Thursday evening, attendees were treated to an elegant networking and dinner event at Fixe Southern House Restaurant. Fixe specializes in upscale Southern food in a very beautiful setting with elegant lighting and décor, and exceptional service. Everyone enjoyed the lively conversation and delicious Southern cuisine, including homemade biscuits topped with sweet and savory treats.
On Friday morning, female delegates attended a breakfast for MGI's 'Women Who Lead' Group: Lead - Inspire – Succeed. MGI Worldwide is proud to celebrate exceptional female talent and inspire future female leaders with our newly formed and rapidly growing worldwide group.
Maxine Brock, MGI Worldwide Marketing Director, and Nancy Damato, MGI North America's Marketing Director, presented a marketing update. Maxine and Nancy provided a lively and engaging overview of MGI's 2022 growth and marketing strategies, the member enhancement program, and an overview of the member marketing Zoom calls.
Joe Tarasco presented the current trends and predictions for the public accounting profession and the Practice Management roundtables discussions continued. MGI North America's newest member, Dan Geltrude, the Managing Partner of Geltrude & Company in Nutley, NJ, and "America's Accountant" provided an engaging new member presentation. An active member of the NJ State Board of Accountancy, a professor, and author of the "Positive Financial Karma," Dan also discussed the 150-credit hour requirement and his efforts in NJ and throughout NA to invoke change in the profession.
Members also heard updates about the 2022 goals and objectives from committee Chairpersons and members, including the A&A, Tax, Management of Accounting Practices, and Managing Partners Committees.
Friday night's event was a fun outdoor dinner at the famous Bangers Barbeque and Beer Garden. Our setting was a private area on their famous balcony overlooking a huge courtyard. Attendees enjoyed great conversation and delicious local Austin cuisine complete with ample seating, firepits, plenty of food and drinks, and live music.
Conference memories: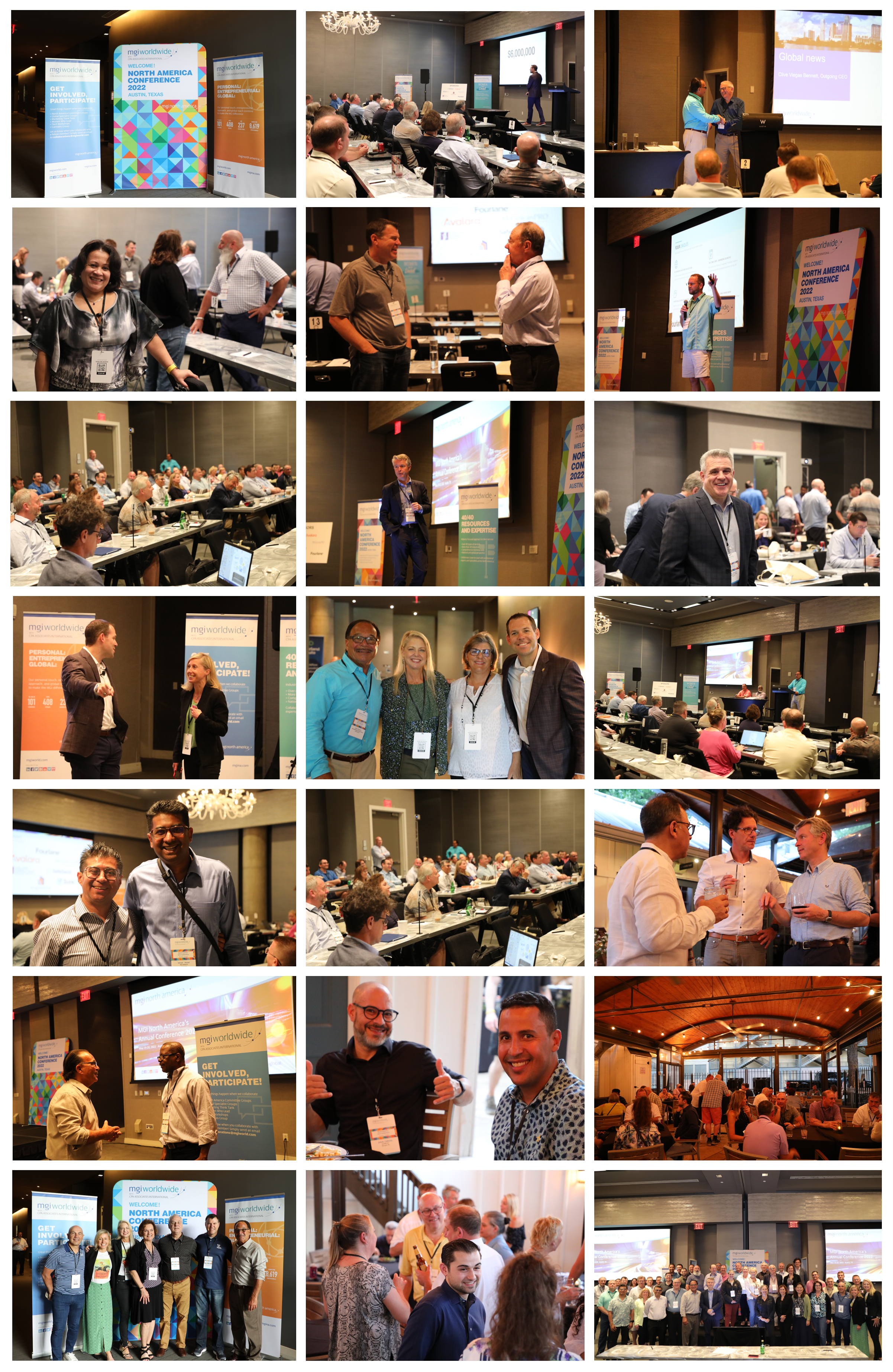 Thank you!

MGI North America would like to sincerely thank our conference sponsors for their contributions and participation:

MGI Worldwide with CPAAI is a top 20 ranked global accounting network and association with almost 9,000 professionals, accountants and tax experts in some 400 locations in over 100 countries around the world.