A record seventy-seven firms from 49 countries register for the European Regional conference, held virtually this year, in June!
The MGI Worldwide CPAAI European Board was pleased to welcome almost 120 participants at the recent European Regional virtual conference, held on 18 June. Seventy-seven firms, from 49 countries, registered for the event with members joining from across Europe, as well as from the Middle East & North Africa, Africa, and UK & Ireland regions. 
The theme of the conference was looking to the future, focusing specifically on two critical aspects of our life: Business and Healthcare. Two global futurists were invited to share their thoughts on what the years ahead hold for the advisory business and healthcare - Gerd Leonhard and Dr Bertalan Mesko.
Zoltan Paksy, Regional Director for the European Region comments:
"The meeting aimed to deliver insights on preparing for the near future, offering networking opportunities, and giving updates on MGI Worldwide CPAAI matters. Gerd Leonhard and Dr Bertalan Mesko, futurists, delivered keynotes on business and healthcare. Participants received updates on the specialist groups, the collaboration project and the merger. Along with the European Board, I was delighted to see the positive feedback participants gave after the event."
Insights to the future
Leading futurist, Gerd Leonhard spoke about the opportunities and challenges of the next five years and what these mean for financial advisory and professional services. Gerd is highly regarded as a global influencer and has advised many business leaders and government officials around the globe. Many will remember his presentation at the 2017 Global Meeting in Frankfurt. 
Also presenting at the meeting was Medical Futurist, and Director of the Medical Futurist Institute, Dr Bertalan Meskó, PhD, whose work analyses how science fiction technologies can become a reality in medicine and healthcare. Considered one of the top voices globally on the future of healthcare technologies, Bertalan spoke specifically about Digital Health.
Positive feedback
Whilst everyone misses getting together in person, to catch up with friends and meet make new ones, attendees have been quick to give their positive feedback on the event.
"Big thanks to Zoltan Paksy for hosting the event, Gerd Leonhard and Bertalan Meskó, MD, PhD on your in depth insights on what the future might bring but first and foremost – it was good to see familiar faces and to debate our joint endeavour on how to take on the future. A big virtual hug to all of our friends. Looking forward to meeting with you all in person!"

Antti Niemi
Revideco, Sweden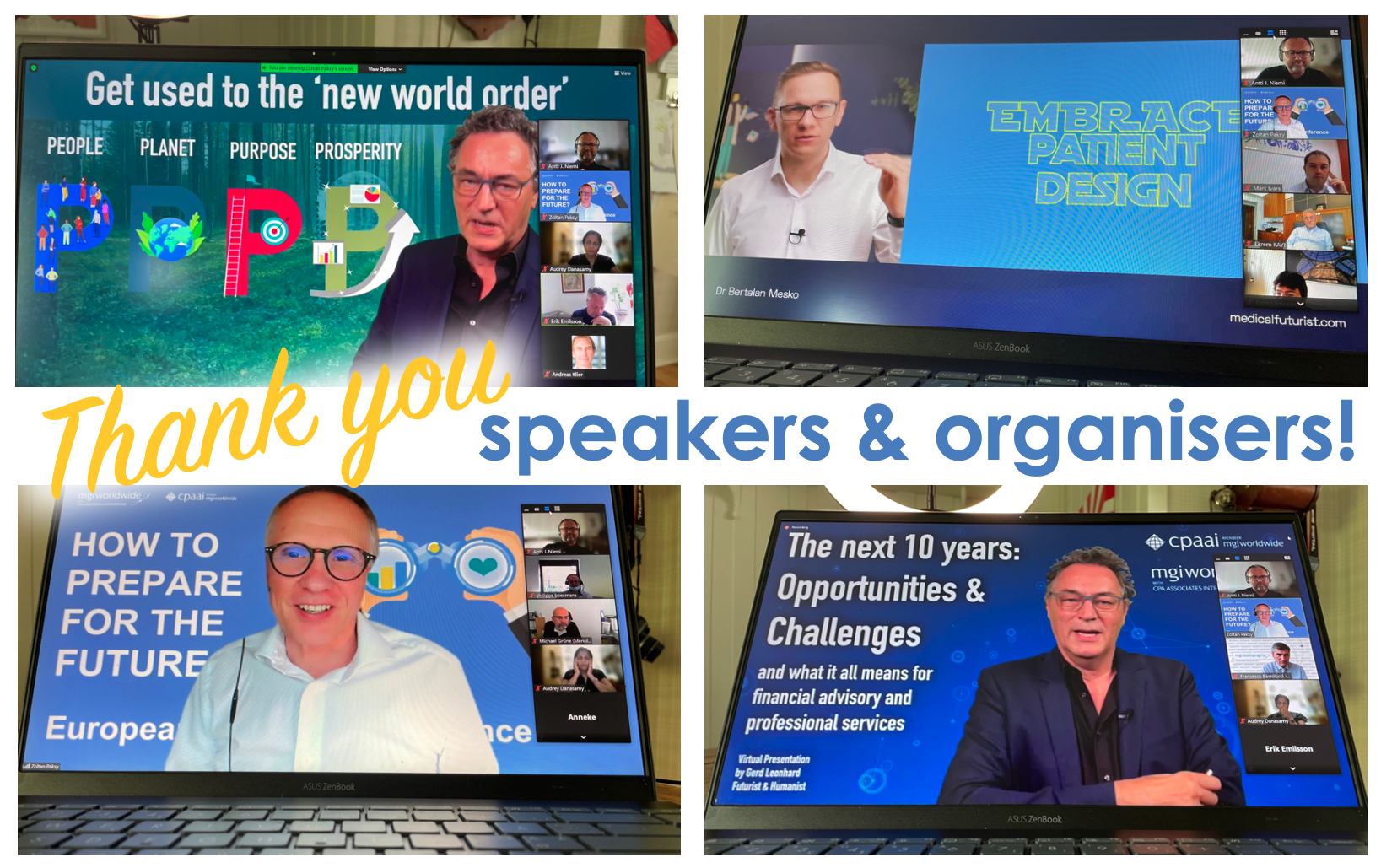 For more information contact Zoltan Paksy at [email protected]
MGI Worldwide with CPAAI, is a top 20 ranked global accounting network and association with almost 10,000 professionals, accountants and tax experts in some 460 locations in over 100 countries around the world.