As COVID-19 continues to hit businesses around the world, Beijing member firm provides detailed guidance on how to close a company in China
With the global economy taking a hit due to this year's pandemic and businesses around the world facing closure, MGI Worldwide CPAAI member LehmanBrown produces an informative white paper outlining the procedures for closing a company in China.
Businesses in China
Dickson Leung, Partner at LehmanBrown explains: "Closing a company in China can be complicated, and more so during Covid-19 and economic turmoil. The first quarter of 2020 saw many businesses registered in China come under financial stress due to the added trade tensions and the global lockdowns caused by the pandemic.
"The registration of new firms during the first quarter of 2020, compared to the year before, fell by 29 per cent. In addition to this, around 460,000 Chinese firms closed during the first quarter. China businesses have since bounced back based on domestic consumption and trade, however, the world economy still has a long path to recovery ahead which will continue to affect on many Chinese businesses, as well as foreign businesses operating in China."
Government response
China has put in place a draft of policies to try and help businesses through these difficult times, focusing on the more vulnerable industries, saving jobs, and stimulating the economy.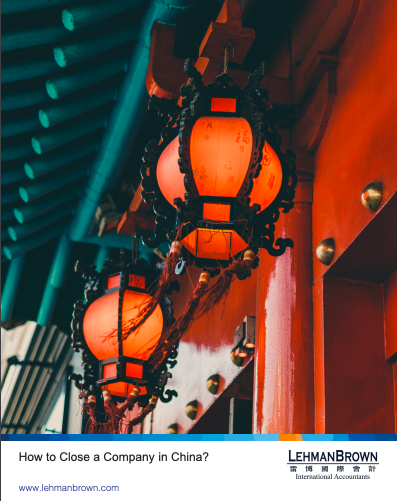 In this paper, LehmanBrown explains the procedures for closing a company and common pitfalls to be aware of. It highlights the need for international business owners to establish a plan and acquire professional advice given that entry restrictions for foreigners continue to hamper the process of company closure.

About LehmanBrown
LehmanBrown International Accountants is a member of MGI Asia with office locations in Beijing, Guangzhou, Hong Kong, Macau, Shanghai, Shenzhen and Tianjin, China. Dickson Leung is a Senior Partner at the firm and also North Asia Circle Leader for MGI/CPAAI in Asia. Dickson has over 24 years of accounting and financial experience in China and the firm has been a member of MGI Worldwide since 2006. 
If you have any questions, please contact MGI Worldwide CPAAI member Dickson Leung at [email protected].
For further details please visit LehmanBrown International Accountants' member profile page HERE or visit their website HERE.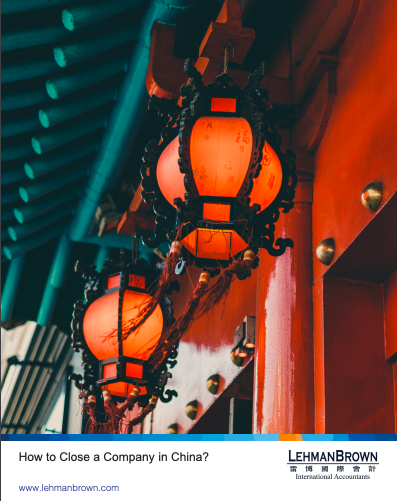 MGI Asia is part of MGI Worldwide with CPAAI, a top 20 ranked global accounting network and association with almost 10,000 independent auditors, accountants and tax experts in some 460 locations in over 100 countries around the world.