Bangladesh-based member firm Khan Wahab Shafique Rahman & Co. shares some of the tangible benefits of being a member of MGI Worldwide with CPAAI
Since joining the network in 2014, KWSR has seen a noted growth in their turnover. Membership of MGI Worldwide and its being part of the Forum of Firms as well as the support received from fellow members have all played part in the firm's progress.
Anisur Rahman, Managing Partner at KWSR, shares his positive experiences of membership in this latest Success Story.
Developing new service lines with help from other members 
Looking to increase their service offering, KWSR reached out to fellow India-based members for technical support. Thanks to this knowledge transfer from Tambakad & Goil [T&G] and Kamdar Desai & Patel [KDP], KWSR & Co. has now begun offering transfer pricing (TP) services to its clients.
Deepak Goil, Partner at T&G says, "MGI provides a great opportunity for member firms to enhance their knowledge and explore new areas of professional services, leveraging the skills and expertise of other member firms."
Securing NGO business with help from the network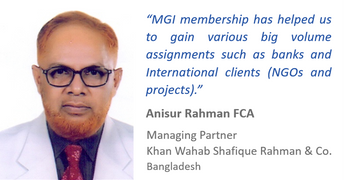 KWSR & Co. previously audited EU donor-funded projects for World Vision (WV) Bangladesh. However, at the request of donors, recent audit of some of these funds has instead been awarded to Big-4 firms. Clive Bennett, CEO of MGI Worldwide with CPAAI comments:
"After contact from Anisur Rahman at KWSR, I saw I could do something to help a committed member of MGI Worldwide. Over a period of two weeks I exchanged messages with senior staff at World Vision Germany."
Anisur explains, "It would have been difficult for our firm to set up links with WV Germany directly but through Clive we secured our position as a service provider for WV here in Bangladesh." 


Are you making the most of membership?
Is your firm making full use of the many resources available to MGI Worldwide with CPAAI network and association members to grow your business and provide increased value to clients?
Anisur provides this advice: "Members should take full advantage of the global reach of MGI Worldwide with CPAAI."
Looking for support?
Contact Emma Rowley [email protected] or Maxine Brock [email protected]
For more information about Khan Wahab Shafique Rahman & Co. visit their member profile page or their website.
MGI Asia is part of MGI Worldwide with CPAAI, a top 20 ranked global accounting network and association with over 10,000 independent auditors, accountants and tax experts in some 460 locations in almost 100 countries around the world.