Board members of MGI Europe and CPAAI EMEA met in Paris to plan together for the future.
Animated discussions and productive teamwork marked the first gathering of CPAAI EMEA and MGI Europe board members held in Paris on 27-28 February.
The purpose of the workshop was to start to co-create and lay out a master plan for the joint European organisation. The board felt that the most effective way to design an innovative future was to run a workshop where every participant could voice the opinion of members, hold constructive discussions, establish a standard viewpoint and build friendships.
The workshop started with a joint dinner to get to know each other. Lively discussions, inspiring story-telling and a glass of champagne made the dinner memorable.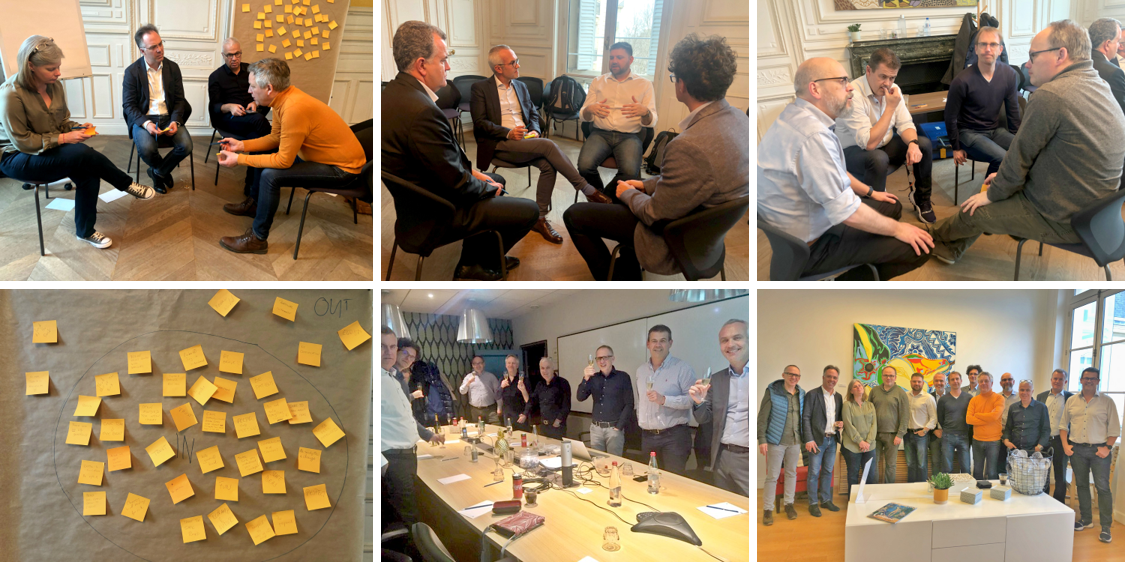 Zoltan Pasky, MGI Europe Regional Director, designed and facilitated the workshop to create a composite picture of the future European region. The team worked in small groups to develop the purpose and culture of the merged region, discussed goals and expectations of furture joint meetings and enjoyed great French hospitality.
The teams agreed to continue to work online and in small groups, or task forces, each focusing on a particular aspect of the future organisation. 
Andreas Klier, Partner at Germany-based Pape & Co. GmbH said "Bringing two organizations together and creating something better is a huge challenge and needs dedicated people, who listen carefully and have the creativity to find, between two options a third, even better solution. What I've learned from our first meeting is that we do have these people in our team, people who have the ability to create a new picture of our new organisation for the future. It is amazing how fast new friendships are built."
This sense of collaboration and commonality of purpose was one that was also felt by László Killik, Partner at BPO AUDIT TAX, Hungary: "We're lucky because we share common values in the European board which is one of the basic conditions for successful decision-making in the future. During the workshop, I realized that many brilliant people surrounded me, no matter which past organization they come from".
Lászlo summed this sentiment up perfectly in his social media post during the event - CPAAI + MGI Worldwide = WE.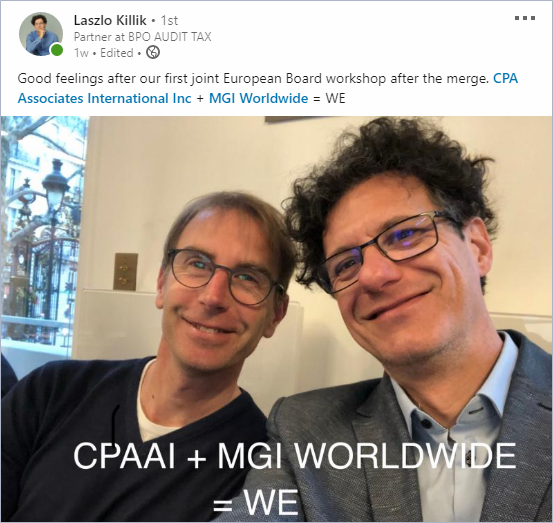 Nicki Lynn, International Business Development Manager at MGI Worldwide with CPAAI agreed, "This meeting was a great opportunity for CPAAI EMEA and MGI Europe board members to get to know one another and begin planning strategically for the future. My greatest takeaway from the event though was the feeling of friendship and desire to move forward as one united organisation. It is no longer 'them' and 'us', but 'WE'! Together we are Bigger, Better, Different."
For more information contact Zoltan Paksy at [email protected].
MGI Europe is part of MGI Worldwide with CPAAI, a top 20 ranked global accounting network and association with 10,000 independent auditors, accountants and tax experts in some 460 locations in almost 100 countries around the world.