Congratulations to our MGI Worldwide accountancy network friends in Sweden!
MGI Worldwide congratulates our accounting association colleagues Revideco AB as they are nominated as a finalist for the Accounting Firm of the Year in Sweden.
MGI Worldwide member firm Revideco AB was also nominated last year and is very proud to be a finalist of this prestigious award again this year.
Promoted by FAR (Swedish organisation which monitors the quality of the accounting industry) the "Accounting Firm of the Year" award recognises the Swedish accounting firm that best qualifies in a variety of categories such as pricing, the use of cloud services, the firm's goals, and services.
Out of a large number of applicants, a jury nominated five firms for the award and will decide on a winner among these later this month.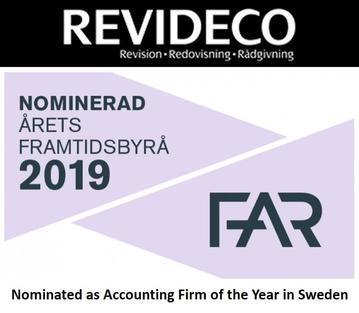 Well done Revideco AB from your MGI Worldwide colleagues around the world!
About Revideco AB
Revideco is not one of the big accounting firms but they have ample recourses at their offices in Stockholm, Skellefteå and Göteborg. They are authorized accountants and auditors and have been providing qualified accounting, audit and consultancy services in Sweden since 1994. 
For further details view the member profile page for Revideco AB, or visit their website.
MGI Europe is part of MGI Worldwide, a top 20 ranked global accounting network with some 5,200 independent auditors, accountants and tax experts in over 260 locations around the world.