Connect Share Collaborate - BGM and Milsted Langdon collaborate to deliver the best results quickly and efficiently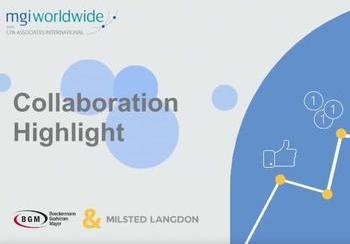 Clients regularly need assistance when setting up subsidiary companies overseas. Collaborating with the client and their legal teams our members are able to delivery the best results quickly and efficiently.
Recently Guy Armitage-Norton and Paul Rattew from Milsted Langdon in the UK were engaged by a client of Corey Edmunds, at Boeckermann Grafstrom & Mayer, LLC in Minneapolis, USA to set up a UK subsidiary.
Working together they were able to ensure that the group tax compliance was set up to minimise risk allowing the client to concentrate on running their business.
Watch the video
MGI Worldwide with CPAAI, is a top 20 ranked global accounting network and association with almost 10,000 professionals, accountants and tax experts in some 460 locations in over 100 countries around the world.