Connect, Share, Collaborate - see how member firms in Greece and Germany are working together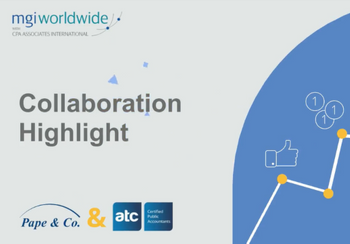 There is a great value in sharing experiences in a wider business context and MGI Worldwide CPAAI is helping members to connect, share experiences and work together.
Some of the ways in which the network helps member firms include:
Regular marketing calls
Connecting more people within firms
Marketing, Communications, Business Development
More recently bringing HR professionals together to get to know one another and help each other
Share & reapply
Our Marketing Specialist Group, in particular, has been focusing on recruitment which many firms are finding challenging.
During a recent marketing call, Kyriaki Karakasili from atc Certified Public Accountants in Greece shared their firm's recruitment video. Inspired by this, Franziska Großmann from Pape & Co. in Germany, connected with Kyriaki to discuss the process behind the video.
"We had recently been looking to create a recruitment video so it was useful to discuss the process Kyriaki had gone through.
The regular marketing group calls are a great opportunity to share knowledge with colleagues from around the world."

Franziska Großmann
Pape & Co.

"It was a pleasure to share our experience with Franziska.
Being able to collaborate with other marketing professionals around the world is very insightful."

Kyriaki Karakasili
atc Certified Public Accountants
Watch the video
Through our marketing specialists group we are connecting more people within firms. Getting to know one another and helping each other in a non competitive environment.
Don't forget to share your collaborations! Send your stories to [email protected].
MGI Worldwide with CPAAI is a top 20 ranked global accounting network and association with almost 10,000 professionals, accountants and tax experts in some 460 locations in almost 100 countries around the world.