Country insights: China - Dickson Leung from LehmanBrown, Beijing, looks at recent trends in the China accounting market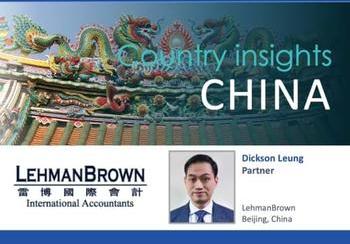 In the latest Country Insight, Dickson Leung, Partner at MGI Worldwide member firm LehmanBrown in Beijing, China, shares news about recent tax-related regulatory changes in China, talks about the health of the industry with specific reference to fee pressure and staff retention, and sets out his expectations for the year ahead.
Q: Have there been any significant regulatory developments over the last 12 months?
Dickson: There have been two new regulations regarding taxes released over the last 12 months.
Announcement on Further Improving the Policy on Extra Pre-tax Deduction of R&D Expenses, released by the Ministry of Finance and the State Taxation Administration [2021] No.13

Purpose: To further encourage enterprises put more investment in R&D, support technology development.

Benefit: With respect to R&D expenses actually incurred by a manufacturing enterprise from its R&D activities, an extra 100% of the actual amount of expenses is deductible before tax, in addition to other actual deductions.

Announcement on Clarifying the Value-added Tax Exemption Policy for Small-Scale Value-Added Tax Payers, released by the Ministry of Finance and the State Taxation Administration [2021] No.11

Purpose: To further support the development of micro and small enterprises.

Benefit: Small-scale VAT payers whose monthly sales are CNY150,000 or less shall be exempted from VAT.
Q: How would you describe the health of the accounting industry in terms of customer demand, fee pressure, and staff recruitment and retention?
Dickson: The accounting environment in China has improved in recent years following reforms and opening up after 40 years. From planned economy to market economy, from old system to new system, pushing forward the internationalisation process. Chinese authorities are making great efforts to make the accounting environment better and better.
Based on the improved accounting environment, customer demands also change. In the past, most clients engaged accounting firms to carry out audits as it was required by regulations and the relevant authorities. However, recently, more and more clients are seeking accounting firms' help based on their needs - such as setting up or improving internal control systems, setting up or upgrading financial systems etc.
Regarding service fees, some clients are willing to pay a higher fee to get high-quality service. The service fee is not the only key factor when they consider whether to buy this service or not. However, due to Covid-19, we are aware that most clients are fee sensitive. Therefore, we have had to adjust our service fees accordingly.
Regarding staff recruitment, we have more candidates than before due to Covid-19, seeing more new overseas graduates come back to China seeking job opportunities. Most of our staff have worked in our firm for at least three years, which is good for the firm allowing us to provide a better service to our clients.
Q: Are there any service areas that have grown over the last 12 months?
Dickson: Since the start of the Covid-19 pandemic, we have been sought by foreign accounting firms that have audit projects in China, as due to the pandemic, they have not been able to carry out fieldwork onsite in China. They have requested our help to perform the fieldwork based on their instructions. Overall, this kind of service has grown significantly over the last 12 months.
Q: What are your expectations for the next 12 months - are there any potentially significant developments in the pipeline?
Dickson: Since Covid-19 has created an unpredictable risk, there is still the obstacle to travel freely amongst countries. Therefore, we expect that more foreign accounting firms may seek us to perform fieldwork for audits or reviews based on their instructions and specifications.
On the other hand, recently, we noted that Chinese concept shares in the US stock market, especially in the education industries, have dramatically decreased due to relevant news released by Chinese authorities. As a result, the performance of all Chinese companies in the US stock market is not good. In the next 12 months, most potential investors or companies that intend to go to IPO in an overseas stock market are on the fence to see the trend or any further matters that can impact the market.
Service related to Initial Public Offering to overseas should decrease in the next 12 months.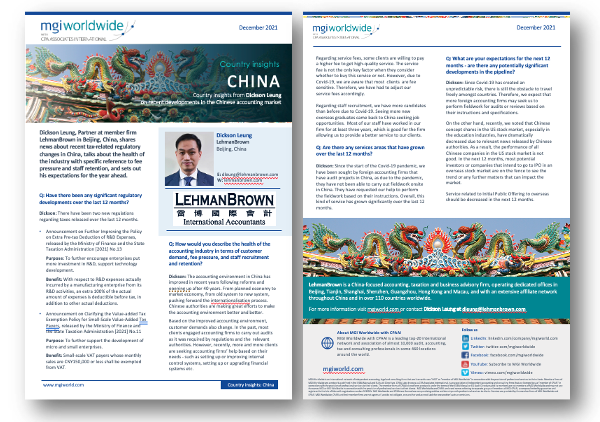 About LehmanBrown
LehmanBrown International Accountants is a China-focused accounting, taxation and business advisory firm, operating dedicated offices in Beijing, Tianjin, Shanghai, Shenzhen, Guangzhou, Hong Kong and Macau, and with an extensive affiliate network throughout China and in over 110 countries worldwide. Being registered with the PCAOB in the US LehmanBrown can conduct SEC work, as well as being accredited by accounting bodies in the UK and Australia.
For more information contact Dickson Leung at [email protected] or visit the firm profile page and website.
MGI Worldwide with CPAAI, is a top 20 ranked global accounting network and association with almost 10,000 professionals, accountants and tax experts in some 460 locations in over 100 countries around the world.