Data Visualisation Like You've Never Seen it Before: Register now for our #tech-on-tuesday's webinar on 16 June and discover how to empower everyone to identify insights
There's a phenomenal amount of data out there. In fact, it's said that for each year during this decade, there will be double the amount of data to the previous year.
The world is full of talented statisticians, programmers and data scientists, but the output of their data is still often an uninspiring 50-page static report. There are far more engaging ways to present your data though!
This webinar is relevant for all MGI Worldwide and CPAAI firms across our global accounting network. Don't forget to circulate this invitation among your firm and staff!
In this webinar you'll learn some easy-to-apply tips and tricks with Excel, plus you'll get a glimpse into Business Intelligence software/Power BI; a software type that businesses are relying on more frequently.
View an interactive example!
You can view a Power BI dashboard showing live data on COVID 19 on Xlconsulting's website here. You can click on any image, bar or word and the charts will change. This is just one example of what effective data visualisation can achieve.
In this webinar you will learn:
How to get data from various sources
Cleaning up data using Power Query
Which visuals work best, and why
How to create a data model with Power Pivot/Power BI
Modern clickable dashboards with on hover pop ups
AI enabled visualisations
Excel analysis tips and tricks
Join us on
Tuesday 16 June, 2 PM London Time (BST) for the
'Data visualisation like you've never seen it before webinar'
CLICK TO REGISTER HERE

Your webinar host: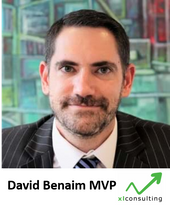 David Benaim MVP 
Chartered Accountant, Founder & Data Scientist 
Xlconsulting
David Benaim MVP, corporate trainer & founder of Xlconsulting. David began his career as a chartered accounting training contract at Deloitte London and now runs a data analytics & training firm Xlconsulting in Cambodia which has trained over 1500 people and consulted over 100 clients in six years. David co-chairs the data residents Cambodia group, coaches speakers for Nerd Night, is also and a written & video blog author for UK's chartered accounting institute. He has a YouTube channel with over 100 tech tutorial videos, some featured on the Microsoft Creators YouTube Channel and in February 2020, he was granted the prestigious Microsoft MVP award.
For more information please contact Paul Winder at [email protected] or Maxine Brock at [email protected].

MGI Worldwide with CPAAI is a top 20 ranked global accounting network and association with 10,000 independent auditors, accountants and tax experts in some 460 locations in almost 100 countries around the world.