Did you know that as an Italian resident, you can reduce the impact of international double taxation?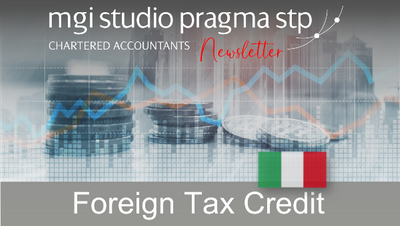 In its latest newsletter MGI Worldwide member firm MGI Studio Pragma, based in Fano, Italy, highlights that under Italian tax law, there are effective measures in place to address international double taxation.
Under Italian tax law, residents can reduce international double taxation by receiving a credit for taxes paid abroad.
Foreign Tax Credit
This mechanism, resembling an ordinary credit method, allows Italian tax residents to offset taxes paid abroad against their Italian tax exposure when the same income is subject to taxation in both jurisdictions.
Additionally, the Italian tax system offers a branch exemption regime that can be elected by eligible Italian taxpayers for further tax relief.
These proactive measures promote tax efficiency, prevent double taxation, and foster international tax cooperation.
For a summary of the Foreign Tax Credit requirements and calculation click here and download the full newsletter.
For any questions, please contact Francesco Bartolucci at [email protected]. Alternatively visit the firm's profile page or website.
MGI Worldwide, is a top 20 ranked global accounting network and association with almost 9,000 professionals, accountants and tax experts in some 400 locations in over 100 countries around the world.