Did you know that Romania has one of the lowest tax rates in the EU? Teaha Management Consulting releases a new guide showcasing the advantages of doing business in Romania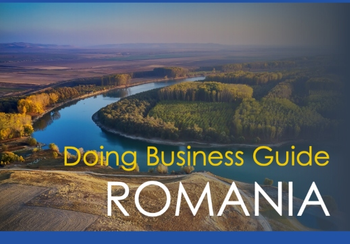 Bucharest-based Teaha Management Consulting, is happy to share with fellow MGI Worldwide CPAAI accounting network members a NEW 2021 Guide to Doing Business in Romania, a country that offers growing opportunities for investments and some of the lowest tax rates in Europe.
Why do Business in Romania?
Romania has numerous advantages: in addition to a large domestic market, the country has a strong industrial tradition, coupled with labor costs among the lowest in the EU and a well-educated workforce. This has been the reason for the development of a significant industrial sector, particularly car making, but also services. Romania offers 96 industrial park infrastructures, offering companies access to utilities and special benefits according to their field of activity, as well as exemptions from property, building, and planning taxes.
Furthermore, Romania has one of the lowest tax rates in the EU. The tax regime favours industrial investment and start-up initiatives equally. A gradual pick up of projects, co-financed by EU funds, brings support for investment which is expected to recover rapidly.
Accounting & Audit | Tax in detail
Access in depth information about local Accounting & Audit and Tax.

About Teaha Management Consulting
Teaha Management Consulting is the largest financial and accounting firm comprising 100% Romanian capital. The firm was established in 1997 by Corneliu-Teofil Teaha and prides itself today in its impressive market share, (especially when considering that a vast majority of the market, in this field, is held by the four largest international consulting companies or "big four").
Today, Teaha Management Consulting carries out its business through a network of associated companies from the most important business centres in Romania – Bucharest, Cluj, Sibiu, Brasov, Timisoara. The firm is represented by over 100 employed or collaborating professionals, many of whom speak German which makes the firm an ideal partner for German, Austrian, and Swiss business markets.
For any questions relating to doing business in Romania, please contact Teo ([email protected]), Partner at Teaha Management Consulting, or visit the firm's profile page or their website.
MGI Worldwide with CPAAI, is a top 20 ranked global accounting network and association with almost 10,000 professionals, accountants and tax experts in some 460 locations in over 100 countries around the world.