Do you have clients with interests in Hong Kong? Read a quick summary of what the recent Hong Kong 2021/22 Budget means for your client's business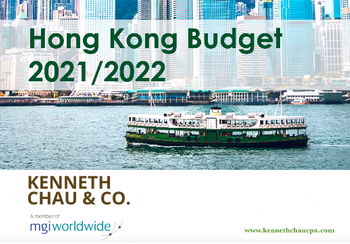 Mr. Paul Chan, Financial Secretary for the Hong Kong Special Administrative Region (HKSAR), delivered the HK 2021/2022 budget on Wednesday, 24 February 2021, outlining the government's plan for the economy and proposals for taxation developments.
The budget forecasts the highest fiscal deficit in Hong Kong's history of HKD257.6 billion for the financial year (FY) 2020-21, against the backdrop of successive shocks including the COVID-19 pandemic and local social incidents.
The budget also contains measures touching on a broad range of sectors, including financial services, tourism, innovation and technology, and the digital economy.
"It is hoped that the budget will help buffer the impact of economic recession on society and people's livelihoods, and pave the way for the post-pandemic economic recovery," said Ken Yeung, partner at Kenneth Chau & Co, MGI Worldwide member in Hong Kong.
The firm has prepared a summary of the budget and what the Hong Kong 2021/22 Budget means for your clients' business.

For further details or assistance contact Ken Young at [email protected]
MGI Worldwide with CPAAI, a top 20 ranked global accounting network and association with almost 10,000 independent auditors, accountants and tax experts in some 460 locations in over 100 countries around the world.