Doing business in Asia? If so, don't miss MGI Worldwide's latest white paper from member firm C.R. Sharedalal & Co. covering new regulations for taxes to be collected on the sale of goods in India
The Indian Central Board of Direct Taxes has recently brought about changes in the Tax Collection at Source [TCS] provisions, with effect from 1 October 2020, through the 2020 Budget i.e. Finance Act 2020.
These changes shall affect a wide range of businesses across various industries. Hitherto, TCS was applicable only to a few select industries but the new changes are slated to affect a wide range of entities selling a variety of goods.
In this white paper C.R. Sharedalal & Co. explains the new changes and hope that it will answer most of your questions regarding the new levy. Read more to find out whether the new changes are applicable to your business or not.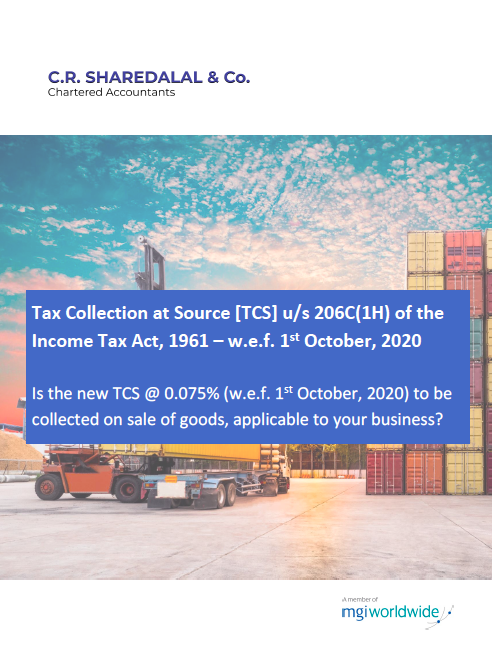 For more information on India's new Tax Collection at Source as well as other investment incentives and opportunities for doing business in India, please contact Anuj Sharedalal at [email protected], MGI Worldwide's Tax Expert at C.R. Sharedalal & Co. in Gujarat, India.

About C.R. Sharedalal & Co.
Established in 1953, C.R. Sharedalal & Co. firm provides specialised services in the areas of Direct Tax, Audit and Assurance, Indirect Tax, and Financial Advisory, serving a diverse range of clients in industries as well as services sectors. Their clientele encompasses various segments of the market i.e. software, education, chemicals, NGOs, Government bodies, outsourcing services, engineering, pharmaceuticals, health & medical services, restaurant chains, hotel chains, power & mining, gems & jewellery, real estate and a host of others.
For further information about the firm please contact Anuj Sharedalal at [email protected] or visit the firm profile page or website.
MGI Asia is part of MGI Worldwide with CPAAI, a top 20 ranked global accounting network and association with over 10,000 independent auditors, accountants and tax experts in some 460 locations in almost 100 countries around the world.