Excited to be part of a global accounting network with a strong regional and international brand, long-term CPAAI member firm in Colombia, transitions to MGI Worldwide
Continuing the fantastic momentum seen across the Latin America Region, MGI Worldwide - and particularly our current members in Colombia, MGI Páez Asociados and MGI VIA Consultoría - are delighted to welcome CPA BAAS Business Advisory and Audit Services to the network.
This will bring the total of MGI Worldwide office locations in Colombia to four, providing great client coverage and further opportunities for strengthening the MGI Worldwide brand within the country.
About CPA BAAS 
Located in Bogotá, Colombia's capital city, CPA BAAS was founded in 1981 and has been an active member of CPPAI since joining in 2009. 
The firm places a strong focus on quality, seeing this as a key differentiator for the firm - its established code of ethics, corporate governance code and quality management systems highlighting this as a priority. The firm's mission is to become a trusted business adviser by offering clients quality services to satisfy their needs, whilst promoting the growth and well-being of its collaborators.
CPA BAAS' objective is to consolidate itself as a nationally recognised firm, known for its professionalism, allowing it to maintain solid and sustained growth in a competitive market. Rafael Zamudio, Founding Partner of the firm, former president of CPAAI LATAM, and current member of the Regional Committee for Latin America, explains:
 

 
"As a member of CPAAI, I always wanted LATAM firms to work together as one and I am carrying this wish on into the network. It seems very important to me that we work on positioning a unique brand and addressing quality issues." 
What makes CPA BAAS different?
Firm Services: CPA BAAS offers traditional services (audit, tax, accounting) but is always looking to develop other differentiating services to support its clients, as well as other member firms. Among these services are environmental and social feasibility, human resource management services, legal services and human resources outsourcing.


Firm Quality: Recently quality assessed for a second time by the local governing body, CPA BAAS was only one of three firms in the country to return zero 'observations'.


Technology: CPA BAAS aims to be at the forefront of technology and innovation, investing in cloud-based services in order to provide the best possible service to its clients.


Data processing: CPA BAAS optimises and streamlines routine data processes such as database management.



Why did CPA BAAS join the network?
All Partners at CPA BAAS have experience with the Big4 accounting firms, so are familiar with being a part of a global network and recognise its value for the firm. Andrés Uribe, Partner of CPA BAAS and current member of the International Committee of MGI Worldwide with CPAAI, explains:
"We are very happy to have made the decision to join the MGI network, as we believe that it is the most effective way to work together in order to grow as a firm and as a network. We hope that this paves a way for this growth to be constant and fruitful for all. We understand that at this time we must remain united for our own good and that of the network."

Andrés Uribe


"It is essential to work in an integrated way. Customers want to transcend borders and they want us to support them in that. Businesses are not restricted to one country. We have to be willing and able to work globally."

Rafael Zamudio
From its founding, CPA BAAS wanted to offer its clients the international capability that comes from being part of a global organisation. Thanks to its international affiliation, the firm has already helped clients in Venezuela, Spain, and Argentina and looks forward to growing its reach across the Latin America Region and beyond as members of MGI Worldwide.



About Colombia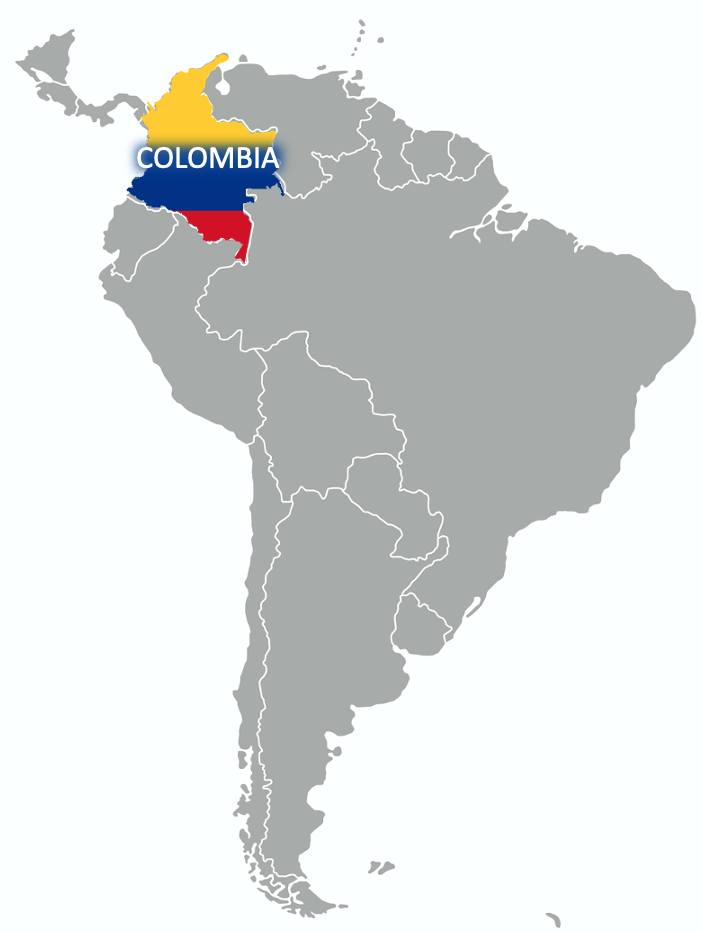 Colombia is bounded on the north by the Caribbean Sea, the northwest by Panama, the south by Ecuador and Peru, the east by Venezuela, the southeast by Brazil, and the west by the Pacific Ocean. Since 2005, after several decades of instability, the country has seen a significant improvement in security, stability, and rule of law, as well as unprecedented economic growth and development.
Colombia has the second-highest level of biodiversity in the world. Its territory encompasses Amazon rainforest, highlands, grasslands, and deserts, and it is the only country in South America with coastlines and islands along both Atlantic and Pacific oceans. Its diversified economy is the third-largest in South America, with macroeconomic stability and favourable long-term growth prospects.
We are delighted to report that more than half of all former CPAAI members in the Latin America region have completed or in the process of transitioning to the MGI Worldwide network.
Are you considering joining our network?
If you are interested in benefitting from membership to the network, click here to read more about how you can join. Members instantly enjoy enhanced brand value and reputation, high-level marketing and communications support and global quality assurance.
You can find out more about CPA BAAS Business Advisory and Audit Services on their firm profile page or their website.
MGI Worldwide with CPAAI, is a top 20 ranked global accounting network and association with almost 10,000 professionals, accountants and tax experts in some 460 locations in over 100 countries around the world.