Fazzari + Partners LLP of MGI North America publishes an updated Doing Business in Canada Guide for MGI Worldwide network members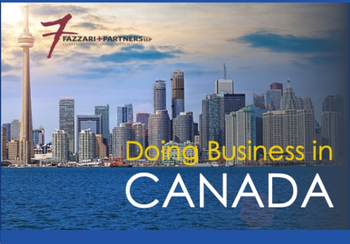 MGI North America member firm Fazzari + Partners LLP, located in the Greater Toronto area, is pleased to share an updated edition of the Guide to Doing Business in Canada with special focus on the province of Ontario.
Canada is a country of opportunity. As one of the most socially, politically, and economically developed countries in the world, the Canadian infrastructure and commercial landscape provide a stability that in many ways resembles that of its southern neighbour, the United States of America.
The United States and Canada share a time tested economic relationship built along a shared border that has and continues to provide opportunity for commercial and cultural growth. Canadian enterprises and Canada as a country welcome new opportunities and investment from the global community; a community growing ever more deeply connected.
Yet, every relationship must be founded in knowledge. In this Doing Business Guide, the firm explores the political and commercial culture that drives Canadian business and, in so doing, aims to provide insight into how international organisations can invest successfully in Canada.

About Fazarri + Partners LLP
Fazzari + Partners LLP is based in Vaughan in the Greater Toronto Area, Ontario in the east-central part of the country. Established in 1988, the firm specialises in taxation, accounting, forensic accounting and more, including providing support for smaller accounting companies and individuals. Fazzari + Partners LLP serves a client base in Canada, the US and Europe and prides itsself in its in-depth knowledge of clients' requirements.
For further information visit the firm's online profile page or their firm website. Frank Fazzari can be contacted at [email protected]