Have you considered using Sway to easily create WOW presentations? Watch our 'Sway: brochures for the 2020s' tutorial with David Benaim's tips, now available on demand!
If you missed last week's MGI Worldwide CPAAI Marketing Call, where our resident #tech expert, David Benaim, shared his easy-to-use design ideas on how to create and share visually impactful business reports and presentations with Sway, this article is for you!
We live in the day & age where everything we read online is mobile optimised, beautiful, brand consistent and interactive. Why does business still rely so heavily on pdfs?
The undiscovered sensation of the Microsoft suite, Sway is the way to create an interactive hub of materials which can include videos (played directly in the site), text, interactive images, embedded Excel or PowerPoint files and many more items.
Sway is automatically mobile optimised. It becomes a one.
No need for design skills!
Sway has a built-in design engine that takes care of making your creation look its best. You can use the existing pre-designed templates or fully customise your layout to make it your own.
David Benaim explains how to convert a word doc to a beautiful interactive Sway page in minutes.
You can watch the recording of David's full tutorial video
HERE:

Click on the image below for a quick Sway about the Sway session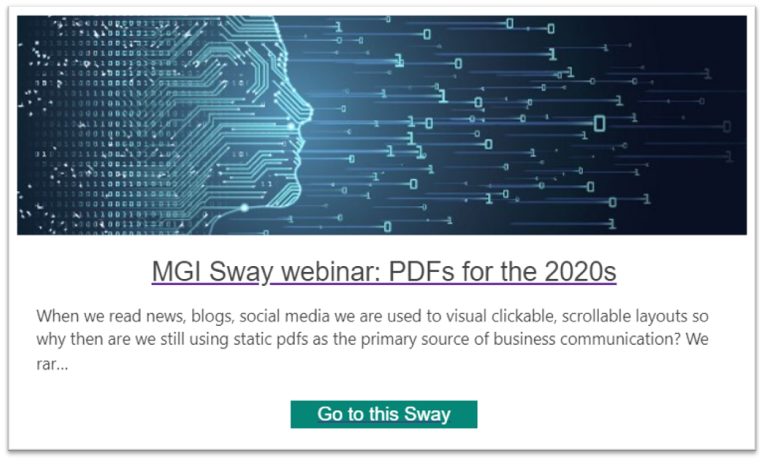 Global Marketing Calls
We hold regular Zoom Calls to enable Marketing, Communications and Business Development professionals across our network and association to come together, share ideas and get to know each other.
These informal conversations are open to everyone. If you are responsible for Marketing, Communications or Business Development in your firm – then please come along and join us!
JOIN US on the first and third Thursday of every month at 4:30 PM BST London Time!
MGI Worldwide with CPAAI, a top 20 ranked global accounting network and association with almost 10,000 independent auditors, accountants and tax experts in some 460 locations in over 100 countries around the world.