Hector Fabio Mejía, of MGI Vía Consultoría, Colombia speaks about the value of MGI Worldwide membership in new video IN SPANISH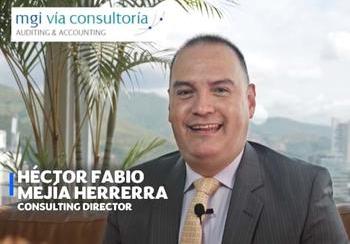 Hector Fabio Mejía, Partner at MGI Vía Consultoría, based in Cali, Colombia, has produced a short Spanish video talking about his experience as a member of MGI Worldwide and how the network has allowed his firm to broaden its horizons.
A member of MGI Worldwide accounting network since 2013, the firm is celebrating its 20th anniversary this year. In addition to a series of planned events with collaborators, clients and friends to mark the occasion and further strengthen the brand in the local market, Hector Fabio wanted to share his experience as a member of MGI Worldwide and explain some of the main benefits received through these years.
MGI Vía Consultoría has always been an active firm, committed to the network and providing value to fellow members. Héctor has participated in the Regional Council of Latin America as a representative of the Andean circle, and also as a member of work commissions such as Recruitment, Training and Marketing.
In addition, he is constantly participating in virtual meetings, training, technical webinars and, of course, in face-to-face events that we have had the pleasure of celebrating throughout the years of his membership.
Watch the video to hear how the firm has been able to develop and project itself through its global membership and build its network around the world.

For further information, please contact Héctor Fabio at [email protected], or visit the firm profile page or website.
MGI Worldwide with CPAAI, is a top 20 ranked global accounting network and association with almost 9,000 professionals, accountants and tax experts in some 400 locations in over 100 countries around the world.