How do you stand out when recruiting? MGI Worldwide CPAAI member firm Dobbyn+Carafa, based in Melbourne, Australia shares insights
What makes you unique and different from others in your industry? To compete for business and for talent you need to offer something special: be different from your competition.
Hosted by Arron Skillen and Lily Carafa, CEO and Client Service Assistant at Dobbyn+Carafa, based in Melbourne, Australia, the Breakout Session on the topic 'Making your firm stand out from the crowd' presented at the the MGI Worldwide CPAAI 2021 Virtual Global Meeting is now available on demand.
Standing out from competition is critical to your firm's success. Arron and Lily addressed practical strategies and helpful tips on how to make your firm stand out when it comes to recruiting and retaining the best talent.
Watch the recording of Arron Skillen & Lily Carafa's presentation
This video is password protected. For the password please visit the Webinars page in the member area or contact [email protected].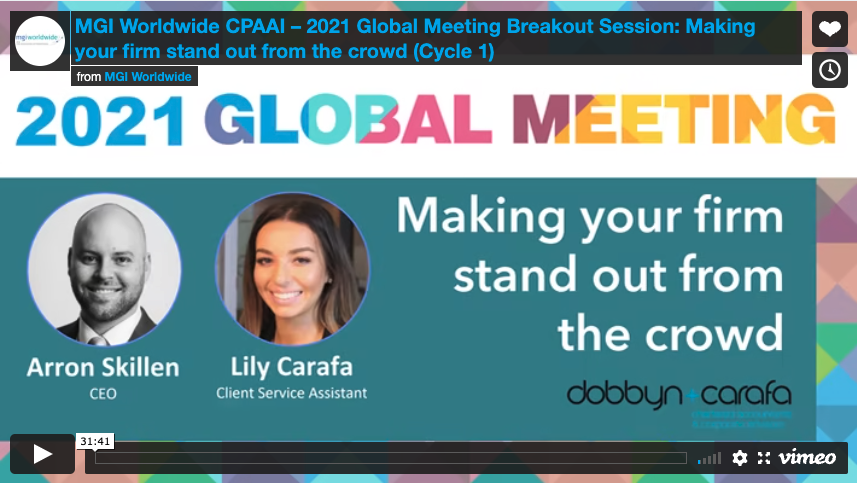 About Dobbyn+Carafa
Dobbyn+Carafa provides services in Advisory (Business Services, Taxation, Superannuation, Retirement and Estate Planning), Transaction Support, Strategy and Efficiency (Corporate Advisory), Outsourcing (Management Accounting), Human Capital (HR Consulting), and Assurance (Audit). The firm provides traditional services in a fresh, innovative way to a wide range of industries.
For further information on Dobbyn+Carafa, view the firm's profile page HERE or visit the website HERE.
MGI Worldwide with CPAAI is a top 20 ranked global accounting network and association with almost 10,000 professionals, accountants and tax experts in some 460 locations in almost 100 countries around the world.