In December's edition of the IAB, we hear from two of our member firms in Spain, and one of our member firms in the Nordics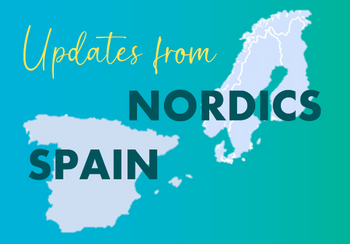 As we start a new year, it's great to recognise our member firms who continue to give up their time to share valued insights on the state of the accountancy sector in their respective countries. In 2022's final edition of International Accounting Bulletin our members in Sweden and Spain report.
Consultancy boom in the Nordic region
While the pandemic didn't have a hugely negative impact on the Nordics, local accounting firms are now ramping up their consultancy services in preparation for the predicted stormy global economy heading our way. Things are looking positive though. A troubled global economy and supply chain issues have led to a boom in consultancy work. Despite facing staff shortages, fees are climbing as customer demand is so high. M&A activity is picking up as bigger firms divest themselves of accounting services and venture capitalists are looking for investments in accounting. The recent adoption of ISA 315 is set to drive fees even further, but it may prove a hard sell to clients and accountants alike.
The International Accounting Bulletin (IAB) spoke to MGI Worldwide member Caisa Westin, Partner at Revideco AB, in Sweden, who shared her thoughts on how the Nordic area seems to be of growing interest to companies abroad.
Spain's SME accounting firms consolidate under inflationary pressures
Spain's business environment has recently seen a raft of new regulations in an effort to make it more efficient. New models have been established for the presentation of annual accounts for all trading companies, including consolidated companies. Changes have also been made to the legalisation of accounting books and new penalties have been established for failure to file annual accounts with the Mercantile Register. Members from two of our firms in Spain shared their thoughts on the impact of these changes over the past year.
MGI Worldwide member Marc Ivars, Partner at MGI Àmbit in Barcelona, discussed the spike in M&A activity seen in 2022.
Ginebra Mostajo Estrada, Partner at MGI Audicon & Partners in Madrid, also discussed the impact of change, and how firms are having to update their systems and processes in order to become more efficient.
To read the full articles in the December edition of the IAB, members can click
here
(login to the MGI Worldwide member area will be required).
Rankings continue strong
The most recent data has been published and we are thrilled to announce that our member firms are ranking highly against the other top accounting associations!
In the Nordics our member firms are ranking 14th for fee income and 13th for staff data. Our member firms in Spain are ranking 20th for fee income and are 21st for staff data. Member firms in the Netherlands rank at the 16th position for both fee income and for staff data.
MGI Worldwide would like to congratulate our member firms across the Nordics, Spain and Netherlands, who are responsible for helping achieve these fantastic results.
For more information about our member firms in Sweden and Spain
Visit the Revideco AB website here or their firm profile page here.
Visit the MGI Ambit website here or their firm profile page here.
Visit the MGI Audicon & Partners website here or their firm profile page here.
MGI Worldwide with CPAAI, is a top 20 ranked global accounting network and association with almost 9,000 professionals, accountants and tax experts in some 400 locations in over 100 countries around the world.