Interested in doing business in the Arabian Peninsula? Oman has launched a new investment-friendly regulatory regime to attract foreign investment
MGI Vision Chartered Accountants, based in Oman, has published a new white paper entitled "Amendment to Omani Foreign Investment Laws" to offer fellow members of MGI Worldwide with CPAAI accounting network and association a deep insight into the new investment-friendly regulatory regime in Oman.
The story so far
Oman has always been a welcoming and friendly business destination for many foreign investment companies. In most instances, the regulations treated foreign investment companies on a par with local Omani investment companies including in tax, localization rules, permits, and licenses.
The Foreign Capital Investment Law (FCIL), applicable until December 2019, allowed foreigners to invest in most sectors in Oman with two important conditions:
• The company needed to have a minimum share capital of OMR 150,000/- (US $390,000/- approx.)
• The maximum shares a foreigner (individual or an entity) could own were restricted to 70% of the share capital and 30% of the shares were to be owned by the Omani national. Only in exceptional cases, with special approval of the Cabinet, was 100% ownership by a foreigner allowed in Oman.
This was mainly granted to very large organizations making exceptional contributions to the Oman economy and local employment. This was more or less in line with regulations prevailing in other GCC countries.
The new era of business opportunities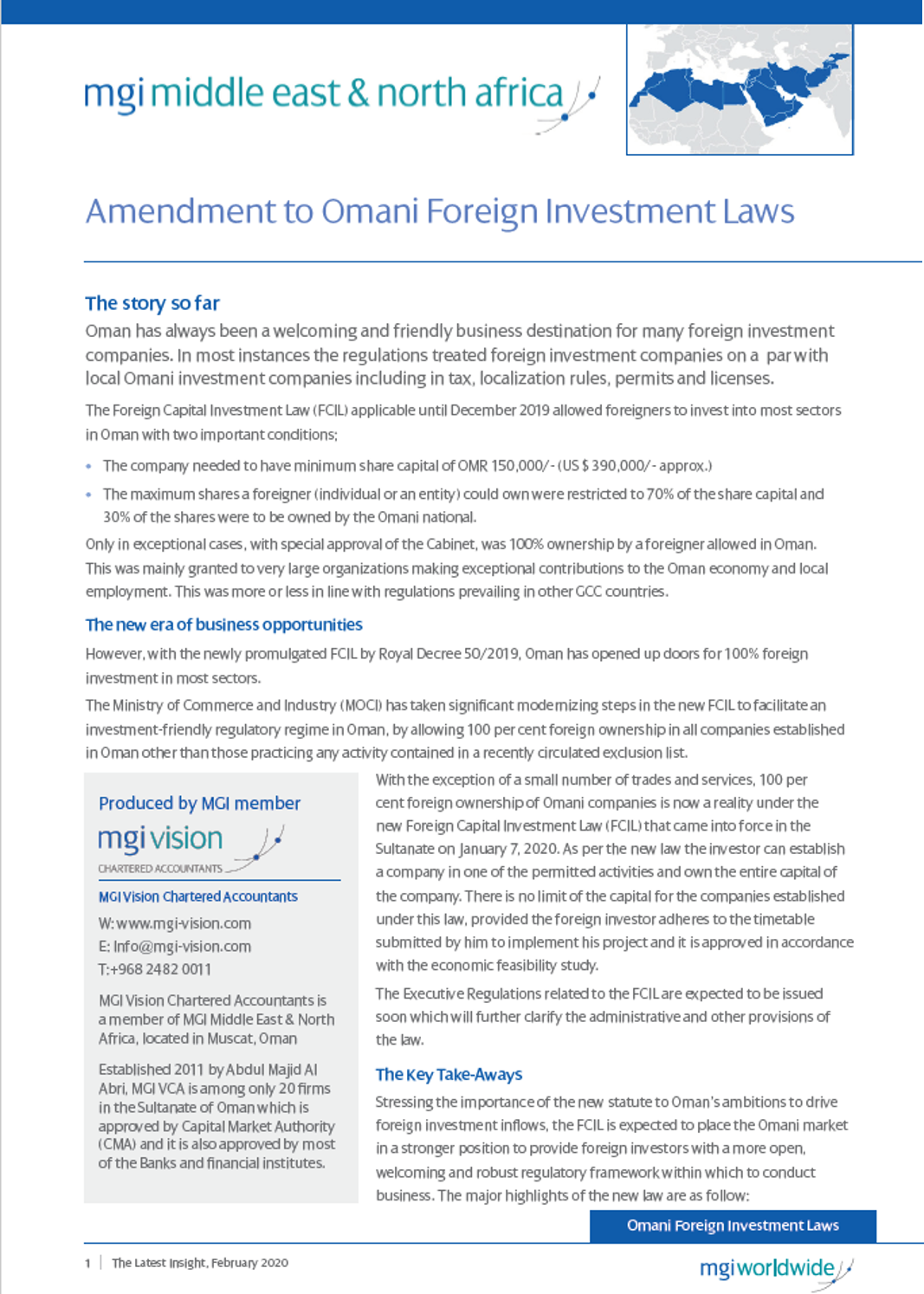 However, with the newly promulgated FCIL by Royal Decree 50/2019, Oman has opened up doors to 100% foreign investment in most sectors. The Ministry of Commerce and Industry (MOCI) has taken significant modernizing steps in the new FCIL to facilitate an investment-friendly regulatory regime in Oman, by allowing 100 percent foreign ownership in all companies established in Oman, other than those practicing any activity contained in a recently circulated exclusion list.
With the exception of a small number of trades and services, 100% foreign ownership of Omani companies is now a reality under the new Foreign Capital Investment Law (FCIL) that came into force in the Sultanate on January 7, 2020. As per the new law the investor can establish a company in one of the permitted activities and own the entire capital of the company.
There is no limit of the capital for the companies established under this law, provided the foreign investor adheres to the timetable submitted by him to implement his project and it is approved in accordance with the economic feasibility study.
The Executive Regulations related to the FCIL are expected to be issued soon which will further clarify the administrative and other provisions of the law.
Click here to further read or download the full report.
About
MGI Vision Chartered Accountants
MGI Vision Chartered Accountants (MGI VCA) has been a member of MGI Worldwide with CPAAI accounting network, in the MENA region, since 2016. MGI Vision is an assurance, tax and consulting firm registered under the commercial laws of Oman, established in the year 2011 by Mr. Abdul Majid Al Abri, an international rank holder CIA, and professional CFE. 
MGI MENA is part of MGI Worldwide with CPAAI, a top 20 ranked global accounting network and association with 10,000 independent auditors, accountants and tax experts in some 460 locations in almost 100 countries around the world.