Italian Patent Box Regime encourages intellectual property development with tax benefits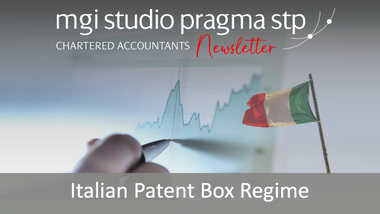 Learn all about the Italian Patent Box Regime through the analysis provided by MGI Worldwide member firm MGI Studio Pragma, based in Fano, in their recently released newsletter.
The key features of this regime include tax incentives for research and development, the reward mechanism for intangible assets with industrial property titles, and the important transition from the previous Patent Box regime.
The Patent Box Regime
This tax incentive encourages businesses to create and exploit intangible assets. It offers two benefits:
An extra deduction of 110% for the costs of research and development activities that maintain and develop existing intangible assets.
A deduction of 110% for the value of the costs of research and development activities that contributed to the creation of an intangible asset that has obtained an industrial property title.
The Patent box regime applies to tax years starting on October 22, 2021. Businesses cannot opt for the previous Patent box regime.
For a summary of the Italian Inheritance and Gift Tax requirements click here and download the full newsletter.
For any questions, please contact Francesco Bartolucci at [email protected]. Alternatively visit the firm's profile page or website.
MGI Worldwide, is a top 20 ranked global accounting network and association with almost 9,000 professionals, accountants and tax experts in some 400 locations in over 100 countries around the world.