Italy Introduces New Tax Measures on Capital Gains from Real Estate Disposals
Italy has recently implemented significant tax measures in its 2023 Budget Law, as reported by MGI Worldwide accounting network member firm MGI Studio Pragma in its latest newsletter.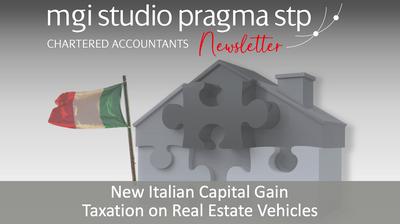 These measures specifically focus on the taxation of capital gains resulting from the sale of interests in companies or entities with a significant portion of their value derived from real estate located in Italy. Italy aims to align its capital gain taxation on real estate entity disposals with the guidelines provided in Article 13(4) of the OECD Model Convention. Additionally, Italy is anticipated to seek compliance with these provisions through the ratification of the Multilateral Convention.
Overall, the new tax measures underscore Italy's commitment to ensuring fair and effective taxation of capital gains arising from real estate disposals. By aligning its tax framework with international standards, Italy aims to foster economic development, attract investment, and enhance transparency in the real estate sector.
To view or download the full article please click HERE.
For any questions, please contact Francesco Bartolucci at [email protected]. Alternatively visit the firm's profile page or website.
MGI Worldwide, is a top 20 ranked global accounting network and association with almost 9,000 professionals, accountants and tax experts in some 400 locations in over 100 countries around the world.