Looking for a round-up of the 2020 India Budget? Kamdar Desai & Patel offer a quick summary in their latest white paper
Kamdar Desai & Patel Chartered Accountants, India-based member firm of MGI Worldwide with CPAAI accounting network in the MGI Asia region, has published a whitepaper summarising the 2020 India Budget, as announced in February by Finance Minister Nirmala Sitharaman.
The budget intends to unify three ideas - Aspirational India, Economic development and a Caring Society. It aims at boosting infrastructure, foreign investment, ease of living and technology-led governance and is directed at inclusive and equitable growth.
The white paper highlights changes to Direct Taxes, including Individual and Corporate income tax rates and considers the alterations in Indirect Taxes such as the Goods and Service Tax as well as to Foreign Exchange laws.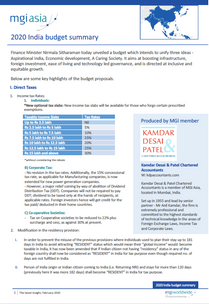 The Government's vision to create a tech-enabled tax system is a welcome initiative. The proposed structural reforms have set high expectations for its seamless implementation and for the economic benefits that it may bring with it. In all, this budget has set the tone for considerable future discourse.
Kamdar Desai & Patel Chartered Accountants hope that this whitepaper is beneficial and provides a useful summary of the 2020 India Budget.
Read the full white paper
 

HERE.


For further details please visit Kamdar Desai & Patel Chartered Accountants' member profile page HERE or visit their website HERE.

Kamdar Desai & Patel Chartered Accountants is a member of MGI Asia, located in Mumbai, India. Set up in 1955 and lead by senior partner - Mr. Anil Kamdar, the firm is extremely professional and committed to the highest standards of technical knowledge in the areas of Foreign Exchange Laws, Income Tax and Corporate Laws.

MGI Worldwide with CPAAI is a top 20 ranked global accounting network and association with 9,000 independent auditors, accountants and tax experts in some 380 locations in almost 100 countries around the world.