Member firms in Australia and Singapore contribute to recent edition of IAB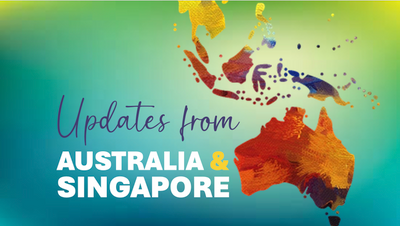 July's edition of the International Accounting Bulletin sees contributions from our member firms in Australia and Singapore – as well as impressive performance rankings!
Mid-way through the year, it's great to see two of our member firms stepping up as industry thought leaders in the well-regarded International Accounting Bulletin. Take a look at our summary of the featured articles or log in to the member portal and click the link further down to read the piece in full.
Complexity keeps Australian firms in business
Demand for accountancy services is as high as ever in Australia, thanks to the continued complexity of the tax system and regulation. High inflation and interest rates have led to increased M&A activity among clients, creating a demand of advisory services. But in the long term, the tax system is hampering Australia's efforts to build a sustainable economy, while decreasing business and consumer confidence puts pressure on fee growth.
The IAB spoke to MGI Worldwide member Tim Lane, Partner at Accru Hobart, who shared his thoughts on how the double impact of inflation and higher rates has seen clients become more cautious.
"It has not been possible to recover all the inflationary cost increases with increased revenue, so profitability has suffered."
Tim noted however, that one way to negotiate this high wire act is to get involved with M&A activity.

"There is a constant amount of M&A in Australia now. This has been driven by the need to chase scale for efficiency and to manage the margin crunch."
Recession stalks Singapore
Singapore is a city of contradictions. On one hand, it is coping with recession - on the other, it is scrambling to meet the demands of expanding Singaporean companies and foreign investors. Due to the ease of doing business, Singapore continues to attract start-ups. This has resulted in higher demand for more non-traditional and specialised services, including advisory and valuation.
MGI Worldwide member Imran Assan, Director at MGI Alliance PAC discusses the paradox of Singapore struggling to meet the high-demands of start-ups despite this recession.

"SME firms continue to see increasing demand for audit services but have to turn away new audit business due to resource shortage, fee pressure and the increasing regulatory oversight."
To read the full articles in the July edition of the IAB, members can click here (login to the MGI Worldwide member portal will be required).
For more industry-related information in Australia and Singapore reach out to Tim Lane [email protected] at Accru Hobart Pty Ltd, and Imran [email protected] at MGI Alliance PAC.
Strong performance rankings
The most recent data has been published and we are thrilled to see our member firms ranking so highly against the other top accounting networks!
In Australia our member firms ranked 12th for fee income and 13thfor staff data. Our member firms in Singapore are ranked 15th for fee income and 18th for staff data. Member firms in New Zealand ranked 13th for fee income, with a special mention for it being attributed to organic growth. They also ranked 13th for staff data. In Japan, member firms ranked 17th for both fee income and staff data and in India our member firms held the 12th position for both fee income and staff data.
MGI Worldwide would like to congratulate our member firms in Australia, Singapore, New Zealand, Japan and India who were responsible for helping achieve these results.
MGI Worldwide, is a top 20 ranked global accounting network and association with almost 9,000 professionals, accountants and tax experts in some 400 locations in over 100 countries around the world.