Members establish new international business connections in the face of the COVID-19 pandemic with the help of MGI Worldwide with CPAAI
Establishing new international business connections during this year's pandemic has been challenging. Here's how MGI Worldwide with CPAAI helped Amit Chopra in New Delhi, India, connect with members in other parts of the world that have India-centric work requirements.
Reaching out to connect 
Recognising the opportunity that the recent merger has brought to establish new working partnerships and professional relationships, Amit Chopra from CPAAI member firm GCA Associates in New Delhi, India, approached Business Development Manager, Nicki Lynn requesting assistance in connecting with MGI Worldwide members who may have India-centric work requirements.
Amit Chopra explains
"This initiative had its genesis when I started writing a letter to my clients enquiring about their welfare at the onset of COVID-19. The letter's central theme spoke about how we needed to collaborate more now especially during these challenging times. This made me think about how I could put this advice to practice in my context more specifically given the merger between CPAAI and MGI. This merger provided a good opportunity to make acquaintance with some more outstanding professionals across the new merged network and association. This collaboration among firms adds more value to the service offering of member firms.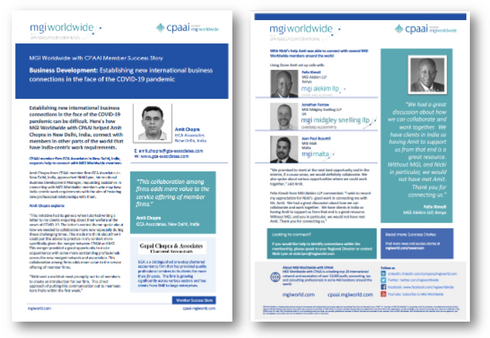 "Nicki sent a mailshot most promptly out to all members to create an introduction for our firm. This direct approach of putting this communication out to members bore fruits within the first week."
Connecting globally
With Nicki's help, Amit was able to connect with several MGI Worldwide members around the world. Using Zoom he set up calls with Felix Kimoli of MGI Alekim LLP, Kenya, Jonthan Farrow of MGI Midgley Snelling LLP, UK; and Jean Paul Busuttil of MGI Malta, Malta.
Felix Kimoli from MGI Alekim LLP comments: "I wish to record my appreciation for Nicki's good work in connecting me with Mr. Amit. We had a great discussion about how we can collaborate and work together. We have clients in India so having Amit to support us from that end is a great resource. Without MGI, and you in particular, we would not have met Amit. Thank you for connecting us."

About Gopal Chopra & Associates
GCA Associates are a Chartered Accountancy firm based in New Delhi, India. The firm has 5 partners and professional staff of over 25 personnel. They provide tax, regulatory, assurance, and consultancy services. The area of specialisation is international taxation and includes structuring of cross border transactions to India and compliances relating to Foreign Direct Investment to India.
For more information about Gopal Chopra & Associates visit their member profile page or their website.
Looking to connect?
If you would like help to identify connections within the membership, please speak to your Regional Director or contact Nicki Lynn at [email protected]
MGI Worldwide with CPAAI is a top 20 ranked global accounting network and association with over 10,000 independent auditors, accountants and tax experts in some 460 locations in almost 100 countries around the world.