MENA region wraps up 2022 with a Bang! - Read all the latest news from the Middle East & North Africa
The latest issue of the MENA Newsletter has been published covering member activities across the Middle East & North Africa Region in the second half of 2022, including the successful MENA Region meeting which was held in Kuwait in December.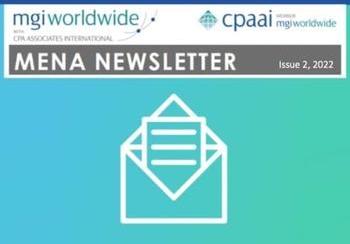 In addition to meeting highlights, members have provided the latest regulatory updates from their respective countries to assist their clients with businesses in the MENA region. The following are included:
UAE Emara Tax
UAE HR matters
UAE Emiratisation rule
Saudi Arabia Company Law
Articles on practice improvement, leadership strategies and marketing ideas have been collated from various sources and are also included in the newsletter.
We invite you to read the newsletter HERE and keep yourself & your colleagues abreast with what is happening amongst members in the MENA region.
Happy reading!
MGI Worldwide with CPAAI, is a top 20 ranked global accounting network and association with almost 9,000 professionals, accountants and tax experts in some 400 locations in over 100 countries around the world.