MGI Australasia's online business benchmarking tool for clients in the region continues to flourish
In 2017, MGI Australasia, part of MGI Worldwide international accounting network, launched their new online benchmarking tool that lets clients see in real time how their business is performing against others in New Zealand and Australia.
Named My Catalyst, the tool provides real-time feedback to business owners in fundamental areas such as growth, innovation, exit and succession planning, and financial performance. Users get real-time feedback and on-the-spot comparisons to other businesses of a similar size, but they also get a downloadable 'traffic light' report with suggestions on how to improve.
MGI Australasia has now released an updated version, My Catalyst for Financial Success. The updated 2018 benchmark was developed as a result of the findings of the previous My Catalyst benchmark which identified that the key issues facing SMEs were predominantly cash flow and profitability. While the previous benchmark focused on more generalised topics; according to Executive Chairman of MGI Australasia, Lorin Joyce, the new benchmarking tool was developed to centre specifically around financial performance and is designed to provide businesses with a more substantial focus on the outlook of their financial position.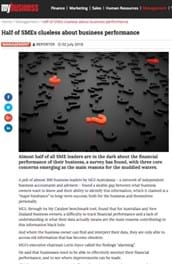 Regional Director Casey Lightbody says, 
"As a region, we are committed to helping our teams, clients and member firms be as successful as they can possibly be. My Catalyst serves as a tool to support this initiative across the MGI Australasia network. It operates not only as a value add to our existing client base but as an entry level offering to introduce prospective clients to the MGI brand. It also provides MGI with an appealing hook when attracting new member firms, who may be assessing the level of marketing support provided when looking to join a network."
Executive Chairman Lorin Joyce shares, 
"We conducted comprehensive research into the business community and found that only half the respondents actually know what is happening with their businesses finances. That's alarming and it's imperative to provide businesses with an easy financial benchmarking platform that can monitor the company's financial performance and provide recommendations for improvement."
"The objective of the 2018 My Catalyst for Financial Success benchmarking tool is to help business owners recognise their financial position in a way that is simple and easy to understand," Mr Joyce said.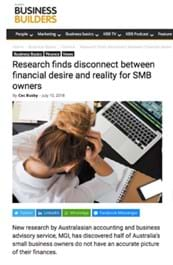 The My Catalyst online benchmarking tool has generated interest in publications targeted specifically at SME's in the region such as My Business, and Business Builders.
For more information visit MGI Australasia's online business benchmarking tool visit: www.mgiaust.com/catalyst
Don't forget to connect with MGI Worldwide on social media!
You can stay in touch and keep up-to-date with what's happening across the MGI Worldwide international network on LinkedIn, Facebook, Twitter, and more recently on our NEW YouTube channel where we post new updates regularly. Simply search "MGI Worldwide" and click to Follow us, and subscribe to our new YouTube channel to help us reach 100 subscribers or more. 
MGI Australasia is part of MGI Worldwide, a top 20 ranked international accounting network with some 5,000 independent auditors, accountants and tax experts in over 260 locations around the world.