MGI Latin America member firm MGI Assurance Auditores Independentes talks about Foreign Investment in Brazil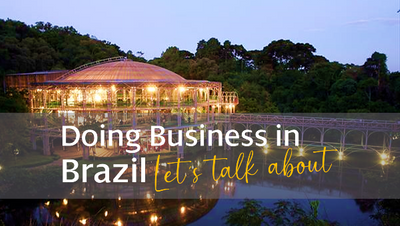 MGI Assurance Auditores Independentes has published its most recent bulletin on Foreign Investment in Brazil. The report aims to provide essential insights and practical advice to all MGI Worldwide accounting network members with business interests in the country.
Let´s talk about… Foreign Investment in Brazil
Brazil welcomes foreign investments in all areas, yet Brazilian legislation does not permit a foreign company to directly function in the country. Therefore, it is necessary for foreign companies to open a branch or incorporate a subsidiary in Brazil. In order to open a branch, a foreign company is required to obtain authorization from the Federal Government, which requests proof of the company's existence in its home country. After obtaining authorization, the foreign company should then file its corporate documents with the competent Commercial Registry.
The Brazilian Central Bank ("BACEN") is charged with registering, following up, and monitoring foreign investments. The Ministry of Economy, through the Brazilian Federal Revenue Service ("RFB"), focuses on taxation of these foreign investments.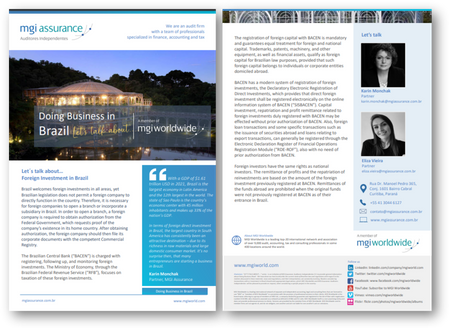 The registration of foreign capital with BACEN is mandatory and guarantees equal treatment for foreign and national capital. Trademarks, patents, machinery, and other equipment, as well as financial assets, qualify as foreign capital for Brazilian law purposes, provided that such foreign capital belongs to individuals or corporate entities domiciled abroad.
BACEN has a modern system of registration of foreign investments, the Declaratory Electronic Registration of Direct Investments, which provides that direct foreign investment shall be registered electronically on the online information system of BACEN ("SISBACEN"). Capital investment, repatriation and profit remittance related to foreign investments duly registered with BACEN may be effected without prior authorization of BACEN. Also, foreign loan transactions and some specific transactions such as the issuance of securities abroad and loans relating to export transactions, can generally be registered through the
Electronic Declaration Register of Financial Operations Registration Module ("RDE-ROF"), also with no need of prior authorization from BACEN.
Foreign investors have the same rights as national investors. The remittance of profits and the repatriation of reinvestments are based on the amount of the foreign investment previously registered at BACEN. Remittances of the funds abroad are prohibited when the original funds were not previously registered at BACEN as of their entrance in Brazil.
About MGI Assurance Auditores Independentes
MGI Assurance Auditores Independentes is an audit firm based in Curitiba – Paraná State (PR), Brazil, composed of a team of professionals specialized in financial, accounting and tax services.
For further information visit MGI Assurance Auditores Independentes' profile page or their website.
MGI Worldwide, is a top 20 ranked global accounting network and association with almost 9,000 professionals, accountants and tax experts in some 400 locations in over 100 countries around the world.