MGI LT Accountant & Asociados of MGI Latin America publishes Spanish language Doing Business in the Dominican Republic Guide for MGI Worldwide global accounting network members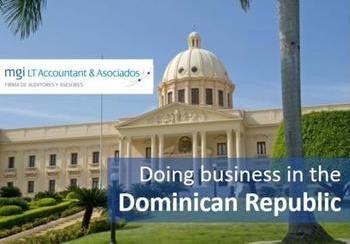 MGI Latin America member firm MGI LT Accountant & Asociados Asesores y Auditores, located in the Dominican Republic, authors a new Spanish language Guide to Doing Business in the Dominican Republic, providing an overview of the legal and business environment to fellow members who are interested in investing in this Caribbean region.
Geography
The Dominican Republic is located in the central area of the Greater Antilles archipelago of the Caribbean region, occupying the eastern two-thirds of Hispaniola island. Its capital and the most populous city is Santo Domingo. It is bordered to the north by the Atlantic Ocean, to the east by the Mona Passage, which separates it from Puerto Rico, to the south by the Caribbean Sea and to the west by Haiti, which is the other country located in Hispaniola. It has an area of 48 730 km2 and its current population is estimated at about 10.7 million inhabitants.
Starting a business in the Dominican Republic
Depending on the type of company, the business structure, and economic activity, there are a few questions that should be taken into account:
Type of business investment
If the business involves bringing money, machinery, technology, personnel, etc. from abroad
Investing in which economic sectors
The geographical location (there are specific free zones)
Grants or incentives offered to foreign investors
If the business is an internal activity or an import/export business
Temporary or permanent business
If the business requires local partners
Type of company, whether it will be a branch or a subsidiary of the foreign company
Requirements for company registration and formation
About MGI LT Accountant & Asociados Asesores y Auditores
MGI LT Accountant & Asociados Asesores y Auditores is an accounting and financial consulting firm providing professional support to their clients at every level. From initial planning to identifying and controlling risks, and optimizing investments, MGI LT Accountant & Asociados Asesores y Auditores​ aim to assure their clients' continued success in future years.
For further information visit the firm's online profile page or their firm website.
MGI Latin America is part of MGI Worldwide, a top 20 ranked global accounting network with some 5,200 independent auditors, accountants and tax experts in over 260 locations around the world.