MGI member firm LehmanBrown produce paper on China Labour Law: Hiring & Firing in China
Knowing the labour laws of any country is essential for conducting business with or within that country. China is no exception. The labour laws are written to protect employee's rights.
This is not to imply that businesses have no power over decisions regarding their employees, but rather to ensure that employees in China are treated fairly. Overall labour laws are quite comprehensive in China and not that different from those in many European countries.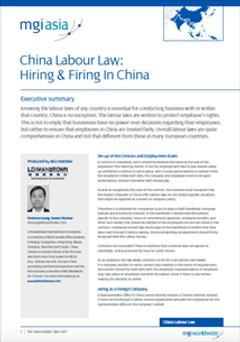 In this paper, Dickson Leung explains the set-up of contract and employment rules and some of the implications of hiring as a foreign company in China. He also examines the termination process and compensation requirements.
LehmanBrown International Accountants is a member of MGI Asia with office locations in Beijing, Guangzhou, Hong Kong, Macau, Shanghai, Shenzhen and Tianjin, China. Dickson is a Senior Partner at the firm and also North Asia Circle Leader for MGI in Asia. Dickson has over 24 years China accounting and financial experience and the firm has been a member of MGI Worldwide for 10 years.
For more information contact Dickson at [email protected] or visit LehmanBrown's MGI Worldwide member profile page HERE.
DOWNLOAD FULL PAPER HERE  
MGI Worldwide is a Top 20 ranked international accounting network with some 5,000 independent auditors, accountants and tax experts in over 250 locations worldwide.