UK-based MGI Midgley Snelling gains sponsorship license and successfully attracts and recruits talent beyond the firm
MGI Midgley Snelling, based in Weybridge, England, is happy to have gained its sponsorship licence, allowing member Kelly-Anne Naude, from fellow network member MGI Bass Gordon, South Africa, to come and work with the firm in the UK.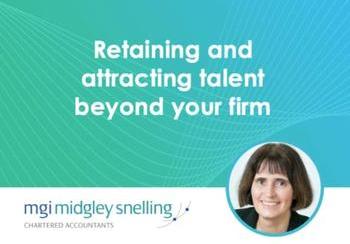 MGI Midgley Snelling has successfully attracted and recruited talent beyond the firm thanks to its new sponsorship licence.
The firm was recently approached by Kelly-Anne Naude who had trained with MGI Bass Gordon, based in South Africa. Kelly-Anne had moved out of practice into industry but wished to return to auditing and also to move to the UK. She was aware of a fellow employee who had reached out to MGI Midgley Snelling for employment advice in the UK and so used the MGI Worldwide network to reach out to the firm for advice. Recognising Kelly-Anne's talent, MGI Midgley Snelling began the process of applying for its sponsorship licence so it could offer Kelly-Anne employment.
How the sponsorship process works
The online process can take up to eight weeks to be approved once the application is submitted. It is possible to try and fast track applications, but there are no guarantees of being successful as only 10 applications will be fast tracked each day.
In order to make the process as seamless as possible, MGI Midgley Snelling employed an immigration lawyer to assist in reviewing the application and supporting documents prior to submission. Given the time required to gather all documents, the firm considered this money well spent.
Once the licence is secured
Once a sponsorship licence has been granted there are still a few additional steps to complete before the candidate can begin work, however, this is the vital first step. Once the licence was secured, the journey towards getting Kelly-Anne into the UK could progress.

MGI Midgley Snelling was able to provide Kelly-Anne with her sponsorship certificate, which was needed to begin, and complete, her visa application.

Get in touch
Tracey Wickens - MGI Midgley Snelling LLP
E: [email protected]
W: www.midsnell.co.uk
MGI Worldwide with CPAAI is a top 20 ranked global accounting network and association with almost 9,000 professionals, accountants and tax experts in some 400 locations in over 100 countries around the world.