MGI North America member Barnes Wendling CPAs announces two promotions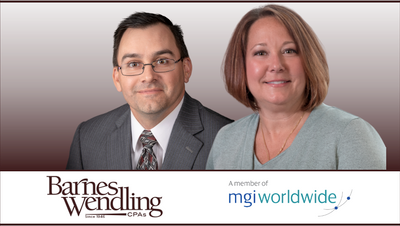 Barnes Wendling CPAs of Cleveland, Ohio, USA, is pleased to announce the promotion of Angela Alexander, CPA, MSA, to director, and that Michael Essenmacher, CPA, has been named director of the accounting and assurance services department (ASD), both effective July 1, 2023.
Angela Alexander CPA, MSA
Angela has been with the firm since 2017 and is a tax accountant focused on corporate compliance, specifically in consolidated structures, transaction planning, and mergers and acquisitions (M&A). She also advises many high-net-worth individuals on year-end planning.
"Angela's contribution to our tax department has been influential in complex areas, such as M&A and corporate compliance," says Larry Friedman, CPA, MT, director. "She has also helped mentor and train our younger staff and interns, while completing her own client work with accuracy," he adds.
Angela is a member of the American Institute of Certified Public Accountants (AICPA), serving on the Tax Practice Management Committee, and a member of The Ohio Society of CPAs (OSCPA). She is a graduate of Kent State University and resides in Akron.
Michael Essenmacher, CPA
In his new role as director of the firm's ASD, Michael Essenmacher, CPA, will lead the Assurance Services team members and oversee the firm's Accounting and Assurance Services practice. He succeeds Michael Pappas, CPA, CEPA, who led the department for 35 years. Michael Pappas will continue witht he firm as a director and client service executive.
He has extensive expertise managing accounting and assurance engagements, working with a variety of privately-owned businesses and not-for-profit clients. He also specializes in reviewing internal controls, fraud awareness, refinancing solutions with banks, and succession planning.
"Over the course of nearly 25 years with our firm, Mike has developed close relationships with our clients and has demonstrated the leadership and client service skills needed to lead the Accounting and Assurance Services department. I am proud to have Mike succeed me." says Michael Pappas.
Michael Essenmacher serves as treasurer of the Elyria Catholic Endowment Foundation, and on the Finance Committee for the Elyria Catholic High School Advisory Board. He is a graduate of Ohio University and resides in North Ridgeville.
About Barnes Wendling CPAs
Barnes Wendling CPAs is a Cleveland accounting, tax, and advisory firm serving privately-held businesses and not-for-profit organizations since 1946. Regardless of your accounting, tax, or advisory service needs, our approach is driven by our client service objective of building and maintaining your net worth. The firm has offices in Cleveland, Sheffield Village and Sandusky.
To find out more visit the firm profile page or website.
MGI Worldwide, is a top 20 ranked global accounting network and association with almost 9,000 professionals, accountants and tax experts in some 400 locations in over 100 countries around the world.