MGI Worldwide accounting network member Pierpaolo Vannucci publishes article on the benefits of setting up an agricultural business in Italy
MGI Worldwide accountancy association member, Pierpaolo Vannucci, Partner from Lucca-based MGI Vannucci e Associati, Italy, has published an article discussing the fiscal, administrative and contributory benefits related to setting up an agricultural business in Italy.
In this edition of Tuscany's Grapevine Magazine, Pierpaolo outlines how Italian law views the two categories of agricultural entrepreneur:
Direct cultivator
Professional agricultural business person (IAP)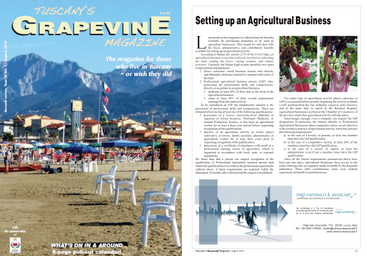 Specifically relating to IAPs, he explains which professional skills are required to qualify for this category, such as having the right diploma, owning or working in an agricultural business, and possessing a certificate from a professional agricultural training course.
For both entrepreneur categories, certain criteria need to be met prior to starting the agricultural activity, such as acquiring VAT information and enrolling in the Business Registry at the Chamber of Commerce.
Once these and other requirements are fulfilled, newly-formed agricultural businesses have access to a wide range of offerings from the relevant Regional authorities.
View full article HERE
For further information please visit MGI Vannucci e Associati's member page HERE or contact Pierpaolo Vannucci at [email protected] 
Don't forget to connect with MGI Worldwide on social media!
You can stay in touch and keep up-to-date with what's happening across the MGI Worldwide international network on LinkedIn, Facebook, Twitter, and more recently on our NEW YouTube channel where we post new updates regularly. Simply search "MGI Worldwide" and click to Follow us, and subscribe to our new YouTube channel to help us reach 100 subscribers or more.
MGI Worldwide is a top 20 ranked global accounting network with some 5,000 independent auditors, accountants and tax experts in over 260 locations around the world.