MGI Worldwide CPAAI member firms in Tunisia work together to successfully complete World Bank project
A powerful collaboration emerges as MGI Worldwide and CPAAI member firms in Tunisia join forces to successfully conclude a World Bank project.
Member firms MGI Business & Financial Consulting (MGI BFC) and La Generale d'Audit et Conseil (GAC), both headquartered in Tunisia, have shared details of how their partnership helped them submit a recent request for proposal (RFP) for a World Bank project.
In October 2020, MGI Qualex of Madagascar came across this exciting opportunity and shared it with Nadia Yaich, Partner at MGI BFC. With her 10 years of experience in management and organisational consulting, Nadia recognised the potential benefits of collaboration in submitting their proposal, so decided to reach out to Chiheb Ghanmi, Partner in financial services at GAC, for assistance in submitting their RFP for the World Bank project, with support from their colleagues Amine Abderrahmen, Bechir Ferhani, Zeineb Hajji and Rania Manaii.
The World Bank opportunity
The opportunity was with a credit risk insurance company based in Tunisia, that received funding from the World Bank for capacity building in the field of financial transactions, risk management, and IT.
The proposal also included consulting services related to risk management and internal audit. With Nadia's experience in risk management, and Chiheb's experience in banks and insurance companies, both firms recognized that they would be more powerful if they joined forces, so decided to collaborate and share their expertise to make their submitted proposal even more powerful.
Collaboration at every level
Nadia Yaich explained that, in addition to collaborating on the proposal, the opportunity would not have arisen in the first place, had they not been alerted by their colleagues at MGI Qualex.
The RFP was submitted online, and the proposal was shortlisted together with Deloitte and BDO in Tunisia.

Maximising membership potential to securing new clients
This successful joint effort is a powerful example of how members can – and should – use the network to collaborate and combine their respective specialisations to acquire new clients and jobs. With over 250 member firms in the network there is no limit to the support that is available to fellow member firms.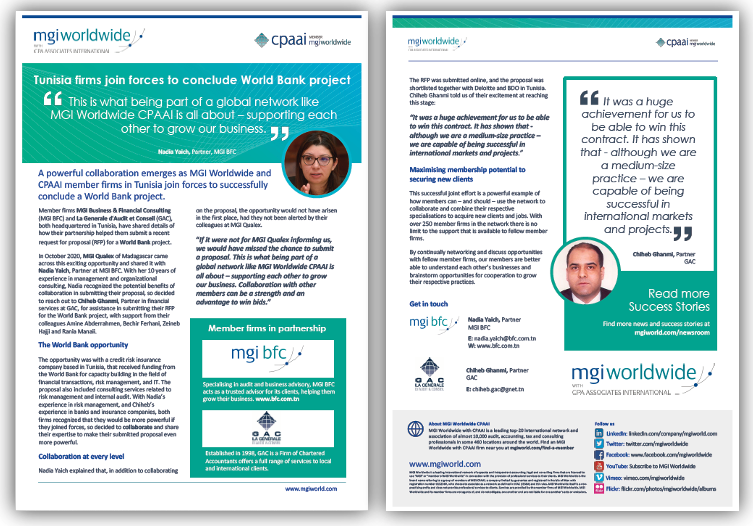 By continually networking and discuss opportunities with fellow member firms, our members are better able to understand each other's businesses and brainstorm opportunities for cooperation to grow their respective practices.
Get in touch
Naida Yaich - MGI Business & Financial Consulting (BFC)
E: [email protected]
W: www.bfc.com.tn
Chiheb Ghanmi - La Generale d'Audit et Conseil - G.A.C.
E: [email protected]
MGI Worldwide with CPAAI, is a top 20 ranked global accounting network and association with almost 10,000 professionals, accountants and tax experts in some 460 locations in over 100 countries around the world.