MGI Worldwide Global AGM returns with delegates gathering from around the world in the stunning city of Vancouver, Canada
Surrounded by majestic mountains, sparkling ocean, rainforests and breath-taking fall foliage, Vancouver provided the perfect backdrop to our flagship networking event of the year and our first Global AGM since 2019!
Chris Borneman, CEO reports:
"It was so good to be able to get together again post-pandemic; a fantastic year of conferences topped off by the AGM in Vancouver last month – and a welcome easing off of virtual gatherings. Vancouver was a beautiful location, and we were blessed with exceptionally good weather – a big thank you to all who helped organise it."

"There were three themes this year; networking; building for the future; and having a bit of fun. The three guest speakers opened our eyes to the economic opportunities ahead, looked at how to protect ourselves in the cyber domain and exploit some of the technology available today, and consider how changing societal expectations should encourage us to amend our offers to recruit and retain the brightest and the best talents.
"Thank you to our guest speakers, Linda Nazareth, Leading Canadian Economist and futurist; Jeremy Hyman, Digital Transformation and technology expert and Lesley Everett, Founder and CEO of Walking Tall Training and Consulting."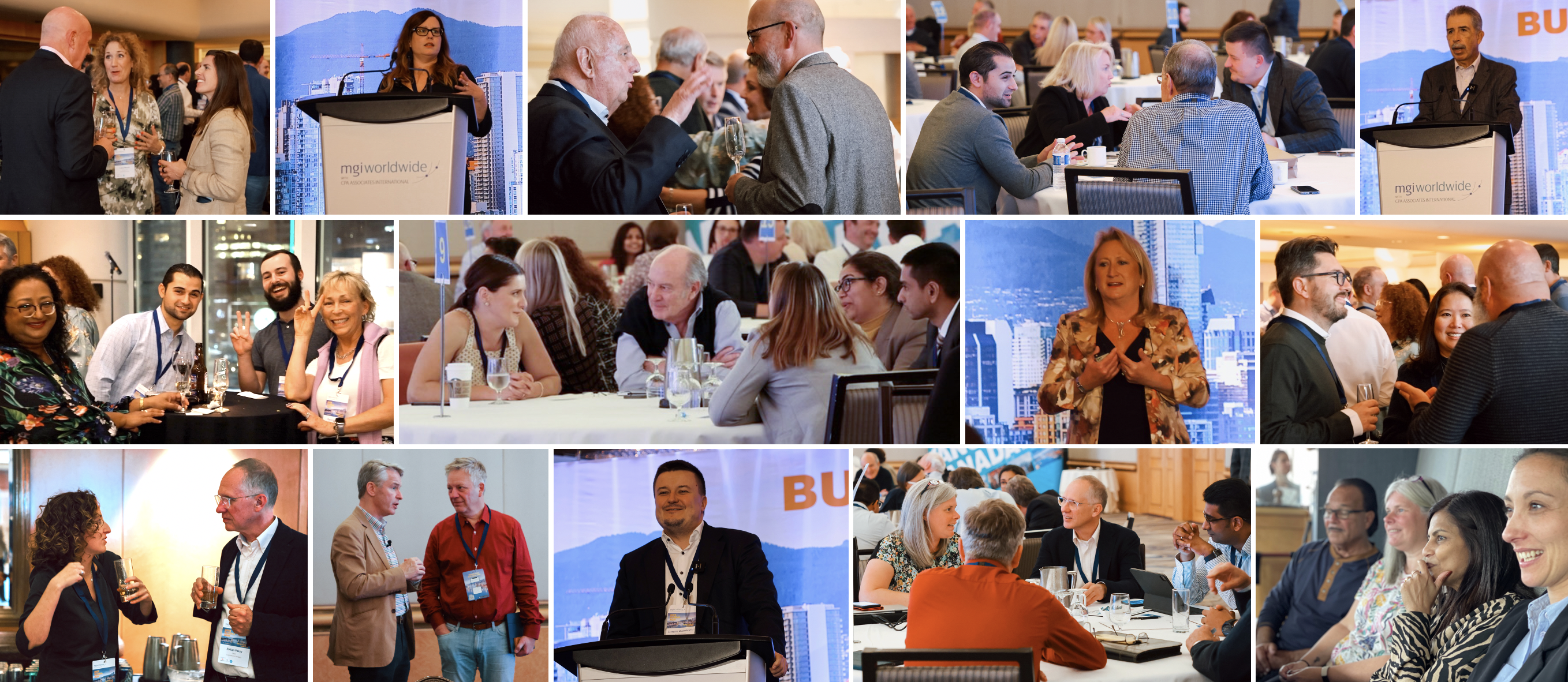 Outsourcing solutions in practice panel discussion
"For the first time we launched a panel discussion on outsourcing, a really successful session with some outstanding panellists drawn from both sides of the equation (and equator!) who helped all delegates understand the opportunities and challenges offered by outsourcing and discussed how MGI Worldwide can support our members in a dating agency type role.
"Thank you to Anuj Sharedalal of C. R. Sharedalal & Co. (India); Rebecca Beitzel, Accru Felsers (Australia); Matt Moy, MGI Sydney (Australia), Sarah Squires, MGI Midgley Snelling (UK) and Carisa Ferrer, Kirsch Kohn & Bridge LLP (USA)."

Member networking
"Whilst the two truths and a lie (fascinating what one learns!) was a popular networking tool (combined with rotating tables challenging the maths of some), it was the construction challenges that led to a previously unseen level of engagement and team working, as well as hilarity. Hats off to the winners, who proudly received their presentation bottles of Canadian ice wine, but a noble effort from all."
Social programme
"Naturally the networking continued throughout the dinners in the Aquarium and the Convention Centre – and deep into the night, with pockets of MGI Worldwide members spread across a number of the local Vancouver haunts, assessing the local brews. By the end, we were all grateful for a chance to take a breath of fresh air and relax, it had been a busy couple of days, and those who made it to the mountains for the post conference tour were blessed with the weather and some great guides – even some sun!"

Chris Bourneman, CEO concludes:
"Your Executive Committee and I are working hard on identifying the right location for next year's AGM, and I hope to be able to announce it soon. These meetings are all about you and for you, the value and benefit is derived from the people attending, so I hope to see as many of you as possible coming to the AGM next year and building on the numbers who came this year."
Another successful Women Who Lead breakfast
Day 2 got off to an early start with the fourth Women Who Lead breakfast. Attracting almost 30 attendees from around the world the group joined together to champion fantastic female leaders across our global community, discuss and share experiences, and sip mimosas. A big thank you to all who got up early to attend and especially to Rosemary Rehner, Barnes Wendling CPAs Inc. (US), a core member of the group.

2022 MGI Worldwide Awards
Our last night Gala dinner saw the return of the MGI Worldwide Awards this year awarded by the MGI Worldwide central team as follows:
Congratulations to our winners!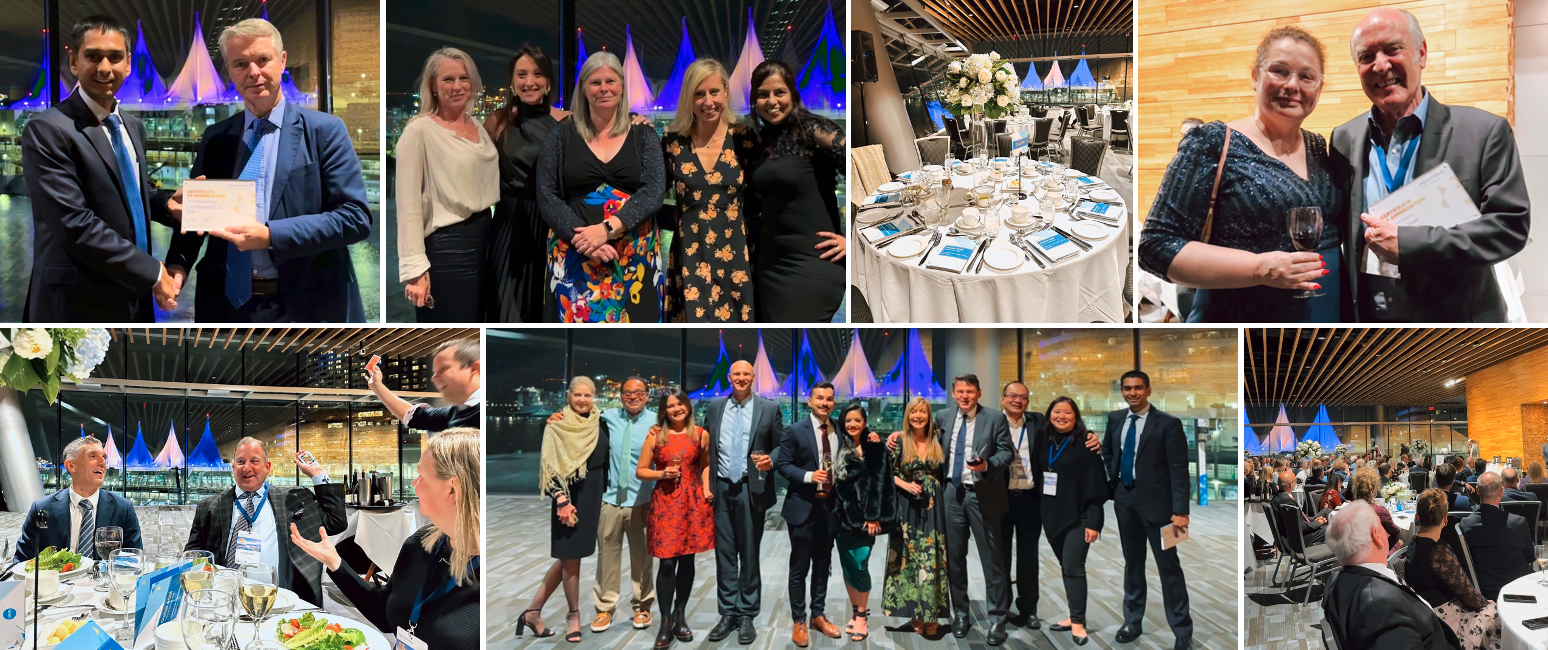 Positive member feedback
"It has been a privilege to attend the MGI Worldwide 2022 AGM in Vancouver, catching up with old friends and making new ones. As always, an informative few days, topped off with a great post conference tour hiking in the woods."

Lois Wiseman
F. W. Smith, Riches & Co., UK

"A big thank you to everyone on the MGI Worldwide team for organising yet another successful meeting. Speakers such as Jeremy Hyman explaining technology for the non-technical and Lesley Everett - Brand Reputation Consultant and Speaker were very inspiring, as well as the presentations from our fellow MGI-colleagues. And not to forget about the competition of creative inventions, in order to win honour and glory.

But as important as knowledge is the opportunity to meet up with our friends and colleagues from all around the world!

Erik Emilsson and Caisa Westin represented Revideco, Sweden, and the Nordic Circle, and we are looking at the future with confidence!"

Erik Emilson
Revideco, Sweden

"A huge thank you to the hosts for what was a very enjoyable trip and to all my fellow MGI members. I especially enjoyed the team building exercise and two truths, one lie table move around."

Sarah Squires
MGI Midgley Snelling LLP, UK

"Feeling elated and pleasantly surprised to have received the award for the "greatest webinar contribution" at the AGM organised in Vancouver. Thanks Chris Borneman for the amazing 2 days, which helped in gaining valuable insights from renowned speakers, along with the fun activities."

Anuj Sharedalal
C. R. Sharedalal & Co., India
Finally, a big thank you to all those who worked hard to make the 2022 Global AGM such a resounding success!

Thank you to our sponsors


Be sure to have a flick through all the event pictures at

flickr.com
MGI Worldwide with CPAAI, is a top 20 ranked global accounting network and association with almost 9,000 professionals, accountants and tax experts in some 400 locations in over 100 countries around the world.