MGI Worldwide member firm LehmanBrown publishes white paper about China's hiring and firing labour law
LehmanBrown, China-based member firm within the MGI Worldwide global accounting network, has published a white paper explaining the important rules relating to China's policy on hiring and firing employees.
The paper outlines how contracts should be set up, the terms outlined within, the circumstances surrounding the timing of when a contract should be in place, and the rules that apply to employers if a contract isn't drawn up.
In addition, since China labour laws don't provide specifically for a breach of company policy, it is advised that companies have a clear Staff Handbook that outlines all relevant company policies and procedures, from expected working hours and exceptions to the rule, to employee benefits.
The paper goes on to explain key points with regards to probation periods, which can be included at the company's discretion, and have to last a certain amount of time depending on the duration of the contract.
With regards to terminating a labour contract, the paper outlines the rules applicable to specific circumstances, such as both employee and company reaching an agreement on termination and a subsequent settlement, the employee initiating the termination process within a particular time frame, or the company terminating the contract without compensation.
The paper concludes by outlining in detail the typical four-step termination process, and specifics about compensation if applicable.
Lehman Brown invites members to get in touch with them if they need assistance with regards to China's comprehensive labour law policies.
View the complete "China Labour Law: Hiring and Firing in China" white paper HERE: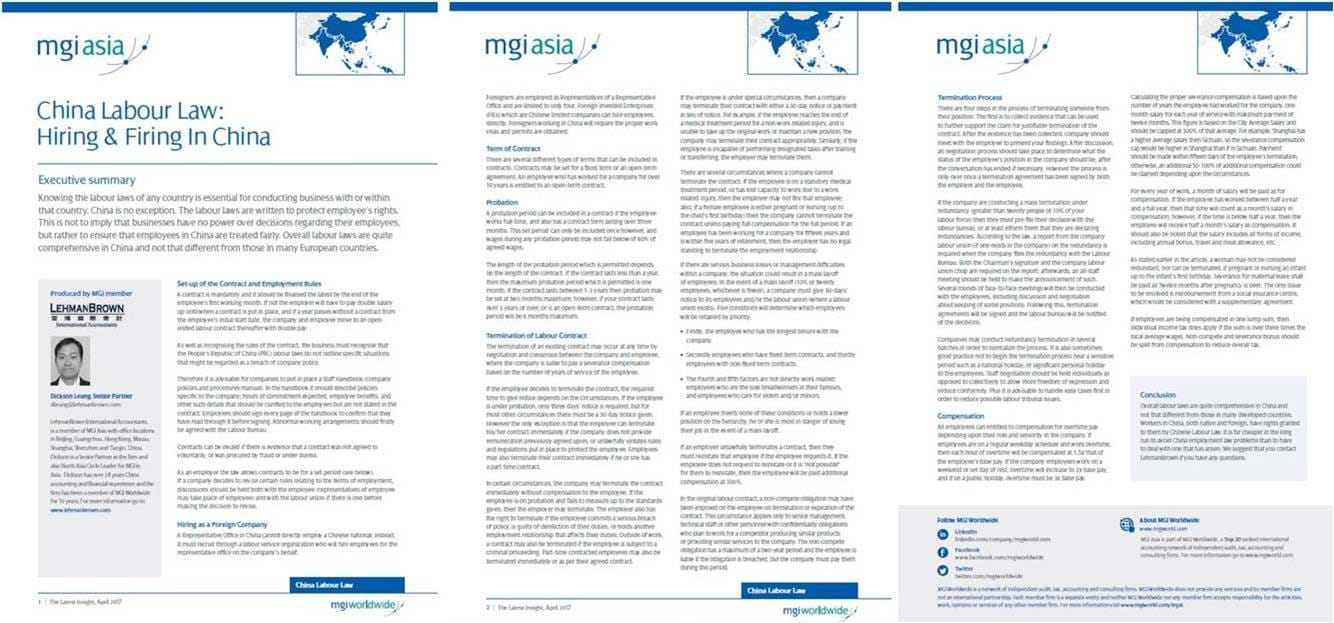 For more information on LehmanBrown, view the firm's online profile here.
Don't forget to connect with MGI Worldwide on social media!
You can stay in touch and keep up-to-date with what's happening across the MGI Worldwide international network on LinkedIn, Facebook,Twitter and, more recently, on our NEW YouTube channel where we post new updates regularly. Simply search "MGI Worldwide" and click to follow us, and subscribe to our new YouTube channel to help us reach 100 subscribers or more.
MGI Asia is part of MGI Worldwide, a top 20 ranked international accounting network with some 5,000 independent auditors, accountants and tax experts in over 260 locations around the world.