MGI Worldwide member firms from France and Germany join discussions on trends withing the accounting industry in a recent edition of the IAB
We're always thrilled to read the contributions our members make to major publications like the International Accounting Bulletin. In November's edition, we heard the thoughts and opinions of two of our member firms, from France and Germany.
Le Pacte Law (2019) impacts SMEs' stance on auditing in France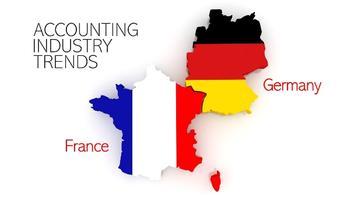 Firms had feared a mass exodus of SME business from French accountancy firms after the introduction of Le Pacte Law. The Le Pacte law (2019) limited the audit activities in small businesses, which resulted in a lot of small accounting firms leaving the audit market. This has not been the case though. Firms are now working hard to expand the services they offer to keep SMEs on their books once they no longer need to be audited.
The IAB spoke to MGI Worldwide member Chloé Marques, Partner at FCN, who shared her thoughts on whether the Le Pacte law, which was designed to promote growth and simplify business processes in the SME sector, has benefited the accounting industry by allowing chartered accountants to extend their reach, making up for the loss of auditing revenue.
German accounting firms become more client-facing
In 2020 Germany's accounting profession was rocked by the Wildcard scandal. This led to a flurry of regulation that has had an adverse affect on German SME firms. The Government has moved quickly and passed the Financial Market Integrity Strengthening Act (FISG), which was considered a milestone for the accounting profession as it strengthens the auditor's independence. But has it gone far enough? Or has it gone too far? This question was asked in the most recent edition of the IAB.
MGI Worldwide member Jan Schmeisky, Partner at Menold Bezler discusses the withdrawal of smaller audit firms from the market as a result of the act.
To read the full articles in the November edition of the IAB, members can click here (login to the MGI Worldwide member area will be required).
Strong rankings continue
The most recent data has been published and we are thrilled to announce that our member firms are ranking highly against the other top accounting associations!
In France our member firms are ranking 16th for both fee income and for staff data. Our member firms in Germany are ranking 17th for fee income and are 15th for staff data. Member firms in Italy rank at the 18th position for both fee income and for staff data.
MGI Worldwide would like to congratulate our member firms in France, Germany and Italy, who are responsible for helping achieve these fantastic results.
For more information about our member firms in France and Germany
Visit the FCN website or firm profile.
Visit the Menold Bezler website or firm profile.
MGI Worldwide with CPAAI, is a top 20 ranked global accounting network and association with almost 9,000 professionals, accountants and tax experts in some 400 locations in over 100 countries around the world.