MGI Worldwide's Ohio-based firm, Barnes Wendling CPAs, names New President-Elect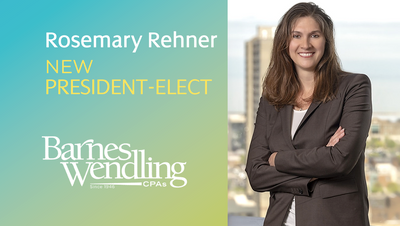 MGI Worldwide would like to join Barnes Wendling in congratulating Rosemary Rehner, CPA, CEPA on being named as the firm's new president-elect. A member of MGI North America's Regional Committee and Core Leader of the Women Who Lead Group, Rosemary is a well known face within MGI.
Effective July 1, 2024, Rosemary will succeed Jeffrey Neuman, CPA, JD, who has led the firm since 2000.
About Rosemary
Rosemary joined the firm in 2007 and serves as a director in the accounting and assurance services department. Previously, she was a senior manager in Ernst & Young LLP's assurance and advisory business services group, working on audits of large public and nonpublic companies in the professional services, manufacturing, distribution, and construction industries.
In addition to performing audits of nonpublic companies, she leads the firm's employee benefit plan audit practice group, assists clients with internal control consulting engagements, performs SOC 1® and SOC 2® engagements, and assists with information technology portions of financial statement audits.
"We feel Rosie's combination of business acumen and her forward-thinking approach will help guide our firm into the future," says Jeffrey Neuman. "Her involvement in the community and with professional associations helps her keep a pulse on our industry as well as client needs," he adds.
Rosemary will lead a team of 14 directors and a staff of 85, located in three offices in Cleveland, Sheffield Village, and Sandusky, Ohio, as well as remote workers in locations across the country.

"Barnes Wendling is a successful firm due to the significant efforts of all our team members and I look forward to the opportunities ahead of us," says Rehner. "With the dedication and talents of our team we will focus on a culture of collaboration and strive for excellence in all that we do. I am honored to lead this exceptional team," she adds.
Rosemary currently serves on the Technical Issues Committee of the American Institute of Certified Public Accountants (AICPA), the Report Acceptance Body for the State of Ohio, and on the North American Region Committee of the MGI Association. She is board president of Greater Cleveland Volunteers, and a board member and audit committee chair for the Cleveland Play House. She is a graduate of Notre Dame College of Ohio. Rehner resides in Avon.
Jeffrey Neuman will continue with the firm as a director and client service executive.
About Barnes Wendling CPAs

Barnes Wendling CPAs is a Cleveland accounting, tax, and advisory firm serving privately-held businesses and not-for-profit organizations since 1946. Regardless of your accounting, tax, or advisory service needs, our approach is driven by our client service objective of building and maintaining your net worth. The firm has offices in Cleveland, Sheffield Village and Sandusky.
To find out more visit the firm profile page or website.
MGI Worldwide, is a top 20 ranked global accounting network and association with almost 9,000 professionals, accountants and tax experts in some 400 locations in over 100 countries around the world.