MGI Worldwide with CPAAI India-based firms hold virtual meeting with colleagues from sister law network, Mackrell International
As members around the world adapt to the new reality of working from home and dealing with the effects of the coronavirus pandemic, many have reached out to fellow MGI Worldwide and CPAAI network and association members as a means of support during these challenging times. In India, collaboration has extended to our sister law network, Mackrell International.
India went into a lockdown mode on 25 March as the number of new Covid-19 cases began to increase. The impact on businesses was immediate, so Audrey Danasamy, Asia Regional Director, together with Sandeep Peters, Asia Pacific Business Development Coordinator at sister law network Mackrell International, decided to set up a zoom call amongst their Indian firms. The objective of the call, apart from introducing members to each other, was to provide a platform for members to share and discuss legal and financial issues arising due to the current pandemic, and how they are managing their firms in the present situation.
"It was a good call," said Sandeep, "and meeting the new members from CPAAI was beneficial."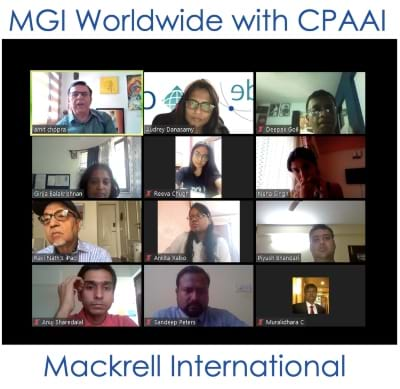 Amongst the matters discussed was the Indian government's support for businesses, the extension of tax filing dates, the Securities and Exchange Board of India (SEBI) filings and compliances for listed companies and Reserve Bank of India (Central Bank) filings. Legal issues faced by corporates was also broached, from negotiations of contracts and agreements to employment and other legal related issues.
On a general note, members shared how technology has helped them to manage their practice and ensure their business continues to operate. The wellbeing of their staff was also a priority, with partners ensuring they were engaged, motivated and keeping well.
It was fascinating to hear how professionals are learning and unlearning in these uncertain times and how they are preparing to bounce back once things start looking up. 
Deepak Goil, of Tambakad & Goil, Bangalore and MGI Worldwide South Asia circle leader said, "The call met it's objectives for members to exchange notes in these difficult times."
If you have stories of collaboration and support that have arisen during the present coronavirus crisis, please contact Emma Rowley on [email protected] - we would love to share them in our Covid-19 resources hub.
MGI Asia is part of MGI Worldwide with CPAAI, a top 20 ranked global accounting network and association with 10,000 independent auditors, accountants and tax experts in some 460 locations in almost 100 countries around the world.