Modern PowerPoint For Remote Presentations Webinar – Learn How To Wow In PowerPoint Register Now!
Register now for our next #tech-on-Tuesday's webinar and learn how to make your presentations more exciting and wow your audience. PowerPoint today has a host of advanced features that will help you create powerful, captivating content at the click of a button.
Join us on Tuesday 26 May for the next in our weekly #tech-on-Tuesdays webinar series as we explore the opportunities that PowerPoint offers those who are presenting remotely.
Register for this webinar and discover: 
New ways to find content (e.g. PowerPoint now has 1000s of premium stock images built in)
New ways to combine content. Get familiar with the "Morph" and "Slide zoom" features and your audience will experience an entirely new PowerPoint experience
Rehearse with PowerPoint's built in AI enabled presenter coach
Ensuring online people are paying attention & running polls
Exploring screen sharing options using Zoom, Teams or other conference calling applications
How to distribute presentations to those who are absent
Join us on Tuesday 26 May, 2 PM London Time (BST)
'Modern PowerPoint for remote presentations webinar'

Your webinar host: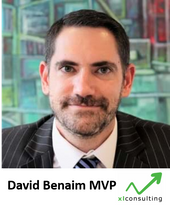 David Benaim MVP 
Chartered Accountant, Founder & Data Scientist 
Xlconsulting
David Benaim MVP, corporate trainer & founder of Xlconsulting. David began his career as a chartered accounting training contract at Deloitte London and now runs a data analytics & training firm Xlconsulting in Cambodia which has trained over 1500 people and consulted over 100 clients in six years. David co-chairs the data residents Cambodia group, coaches speakers for Nerd Night, is also and a written & video blog author for UK's chartered accounting institute. He has a YouTube channel with over 100 tech tutorial videos, some featured on the Microsoft Creators YouTube Channel and in February 2020, he was granted the prestigious Microsoft MVP award.
For more information please contact Paul Winder at [email protected] or Maxine Brock at [email protected].

MGI Worldwide with CPAAI is a top 20 ranked global accounting network and association with 10,000 independent auditors, accountants and tax experts in some 460 locations in almost 100 countries around the world.