NEW Cambodia Investment & Tax Booklet 2020 published by APV Cambodia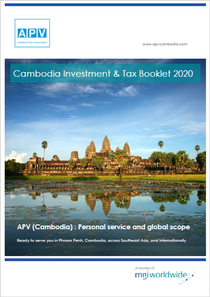 MGI Worldwide with CPAAI accounting network and association member firm APV Chartered Accountants has released a new investment and tax booklet providing an overview of the tax requirements that those wishing to invest and do business in Cambodia need to be aware of.
Cambodia is one of the fastest growing economies in Southeast Asia, with a forecasted 7% economic growth per year for the next five years and a rapidly growing consumer class that is earning triple the average income, making it an attractive market to invest and do business in.
The Cambodian government is promoting opportunities for new business with competitive tax rates and investor-focused policies, including a 'Qualified Investment Project' tax exemption for up to nine years, and some exemptions from import duty. There are no restrictions on foreign exchange through official banks and access to government ministries has been improved to facilitate regulatory compliance.
APV's Cambodia investment & tax booklet covers a wide range of detailed information:
Country information
Entry requirements
Business legal forms and taxable enterprises
Corporate/enterprise registration
Taxation of income
Other forms of taxation
Tax incentives for SMEs and Qualified Investment Projects
Statutory audit requirements
About APV Cambodia
APV is a progressive firm with clients from various types of industries. Their experienced team of financial auditors, tax consultants, accountants and consultants offer a wide range of professional services including audit & assurance, accounting, tax, consulting, and mergers & acquisitions.
For further information visit APV Cambodia's online profile page or their website.
MGI Asia is part of MGI Worldwide with CPAAI, a top 20 ranked global accounting network and association with 10,000 independent auditors, accountants and tax experts in some 460 locations in almost 100 countries around the world.