NEW Guide for Doing Business in Germany published by Votum AG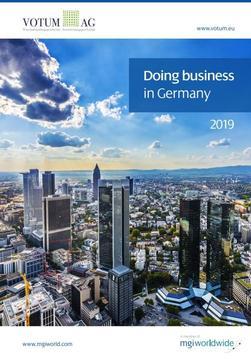 MGI Worldwide accounting network member firm Votum AG has released a new brochure providing an overview of matters to be considered by those considering doing business in Germany.
Germany is the strongest economy in Europe and one of the largest worldwide. It is a technology driven nation and a leading country in the filing of patents relevant to international markets.
The German government is opening more paths for creativity, innovation and the smooth delivery of goods and services. This is accomplished by means of educational and employment reforms designed to meet economic demands as well as financial support for businesses.
Votum's doing business guide covers a wide range of detailed information:
Country info
Forms of business enterprise
Taxation of income
Other forms of taxation
Intellectual Property Protection
Labour relations and social security
Quality of life
Click HERE to view the full Doing Business in German guide.
About Votum AG
Votum AG's experienced team of financial auditors, tax consultants and attorneys help many medium sized businesses in all aspects of national and international tax, accounting and corporate law.
For further information visit the firm's online profile page or their firm's website.
MGI Europe is part of MGI Worldwide, a top 20 ranked global accounting network with some 5,400 independent auditors, accountants and tax experts in over 260 locations around the world.