NEW Spanish-language guide for Doing Business in Panama now available!
MGI Worldwide global accounting network member MGI Montúfar & Asociados and CPA / Tax Chambonett y Asociados have collaborated to produce the 2022 Guide to Doing Business in Panama. The Spanish language guide provides valuable insights into business opportunities with a particular focus on the country's legal and tax framework.
Panama's strategic location
Panama is located in Central America, between Colombia and Costa Rica. Due to its privileged geographical position Panama forms a commercial bridge between North and South America and a gateway, via the canal, from the Caribbean to the Pacific.
Competitive advantages of Panama
The geographical position of Panama and its economic structure, mainly based on a well-developed service sector, are the key drivers to facilitate business expansion. Panama is a first choice country for multinational companies due to its extraordinary advantages and favourable business environment, an ideal base for expanding operations to the rest of America and worldwide.
Doing Business in Panama
Click the link to open/download the SPANISH PDF and access the Guide to Doing Business in Panama, containing valuable insights into the Panamanian business & legal environment:
Investing in Panama
Starting a business
Business opportunities
Special economic areas
Immigration
Labor regulations and laws
Taxes
International reach
English version coming soon!

Want to know more?
For more information contact either: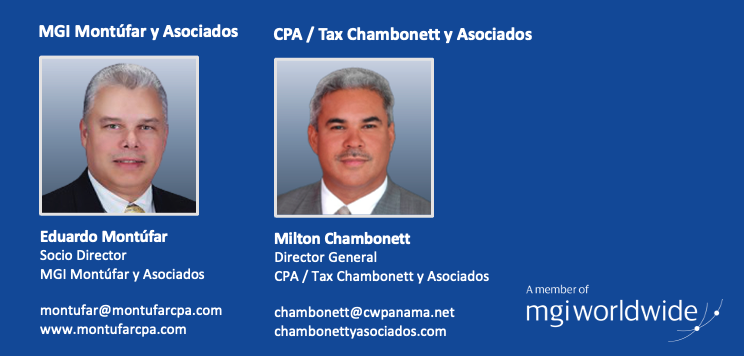 MGI Worldwide with CPAAI, is a top 20 ranked global accounting network and association with almost 9,000 professionals, accountants and tax experts in some 400 locations in over 100 countries around the world.