Our First-Ever Virtual Global Meeting was an astounding success!
We had high expectations for our first MGI Worldwide CPAAI combined global meeting this year, and the pandemic was not going to stop us from coming together and connecting!
Hosted over a full 12-hours from 6 am – 6 pm London Time on 22 October, our first virtual global meeting attracted our biggest ever audience with more than 730 attendees from 90 countries around the world. The more accessible format allowed us to reach more people within firms than ever before with 40% attending an MGI/CPAAI event for the very first time.
This great coming together of members and staff at all levels and from all corners of the globe was not only our biggest event ever, but also our most far reaching. It was a great reminder of what a rich and culturally diverse community of people and firms we are.
12-hour rolling programme
While a virtual meeting does not lend itself to the same type of networking opportunities as a real physical meeting, it did open up interesting, new possibilities. The 12-hour rolling programme gave plenty of opportunity for everyone involved to choose time slots according to their time zone, and the variety and pace of sessions delivered a good mix of "Getting to know each other" networking, a range of breakout discussion groups on technical and business issues, global and regional updates and presentations.
The interaction and enthusiasm created a real "buzz" and goes to show that a virtual meeting can still be hugely valuable. Our community board saw 173 discussion topics posted, 1833 messages, and 86 virtual meet-ups with 588 participants!


Our guest speakers and presenters
Our line-up of guest speakers included British Economist and Director of the Institute of Fiscal Studies, Paul Johnson CBE, tech leader and former Diplomat, Priya Guha and experienced trend specialist and consultant, Thimon de Jong.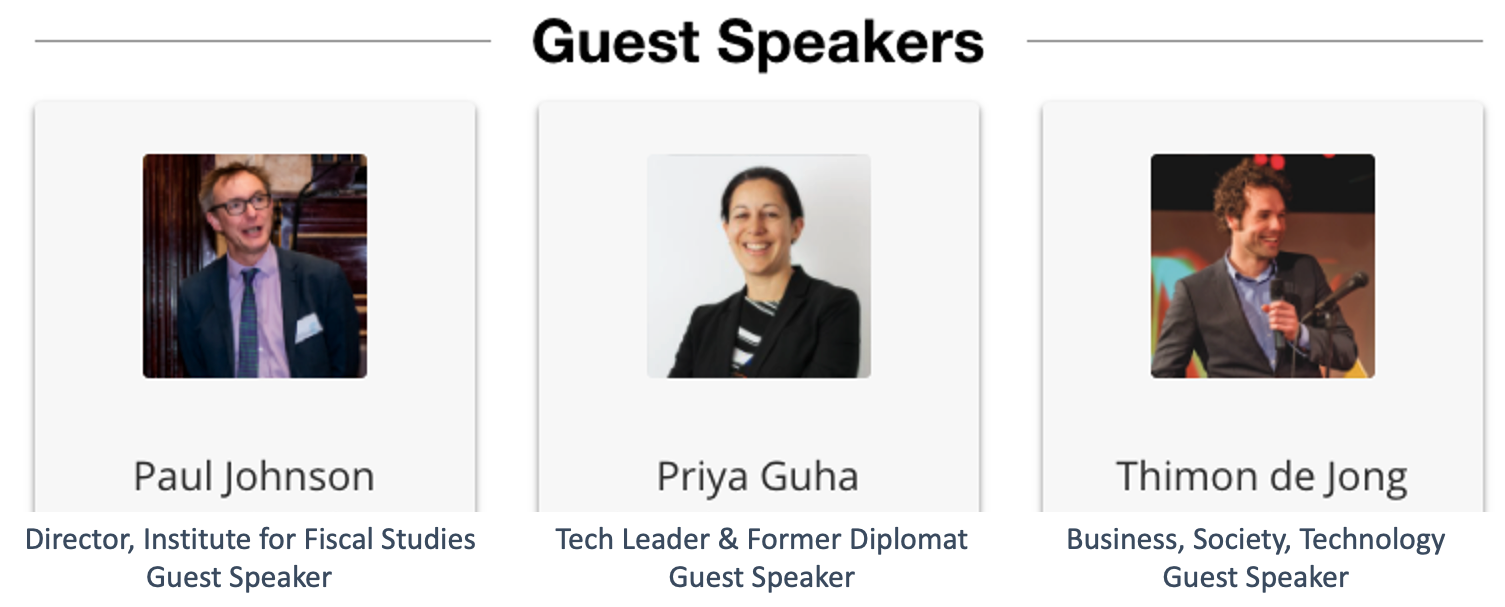 Thank you to MGI Worldwide CPAAI Co-Chair, Roger Isaacs (UK) for his global updates and participation throughout the day (particularly on his birthday!). Also, special thanks to: Lawrence Wong (Hong Kong), Andreas Klier (Germany) and Cuauhtémoc Contreras (Mexico), for their contributions; and to our breakout discussion group leaders, Ian Marrow (UK), Florian Hanslik (Switzerland), Francesco Bartolucci (Italy), Michael Grüne (Germany), Steve Zabeti (Australia), Ahmed Samadi (Australia), Lance Middleton (UK), Zafer Celik (Switzerland), Jane Lowden (UK), Susannah Adams (UK) and Enrico Bressan (Italy).
Our sponsors
We had four sponsors which included our global technology partner, CaseWare, and others such as Circit, Mercia, ForrestBrown, and Mackrell International. They all played active roles during the conference and had sponsor and exhibitor booths where members could interact and learn more.

New members
We also welcomed nine exciting new members that have joined us in the last 12 months, including PrimeTax AG (Switzerland), Ramirez, Saco y Asociados S. Civil de R.L (Peru), Valarezo & Asociados (Ecuador), Alexander Knight & Co Limited (UK), COFIMA (Benin), MGI DLS & Associates (Bahrain), BH Auditing (Yemen), Delovoy Profil (Russia) and most recently, Vizyon (Turkey).

Our most active members
Sumit Dhadda from MGI DLS & Associates, Bahrain made it to the top of Leaderboard for being the most active overall on our Whova Mobile App. We also had some well-deserved winners of our two photo contests. Well done to Felix Kimoli, MGI Alekim LLP, Kenya and Steve Bennett, MGI Joyce|Dickson, Australia who both won a $100 Amazon gift card.
Thank you!
The combined #mgicpaai team spirit really shone through on the day, and despite the challenges presented by this format change, we were delighted with the response and have received lots of positive feedback from attendees far and wide about their experience.
We helped raise over £2,100 in aid of Medecins Sans Frontieres (Doctors Without Borders).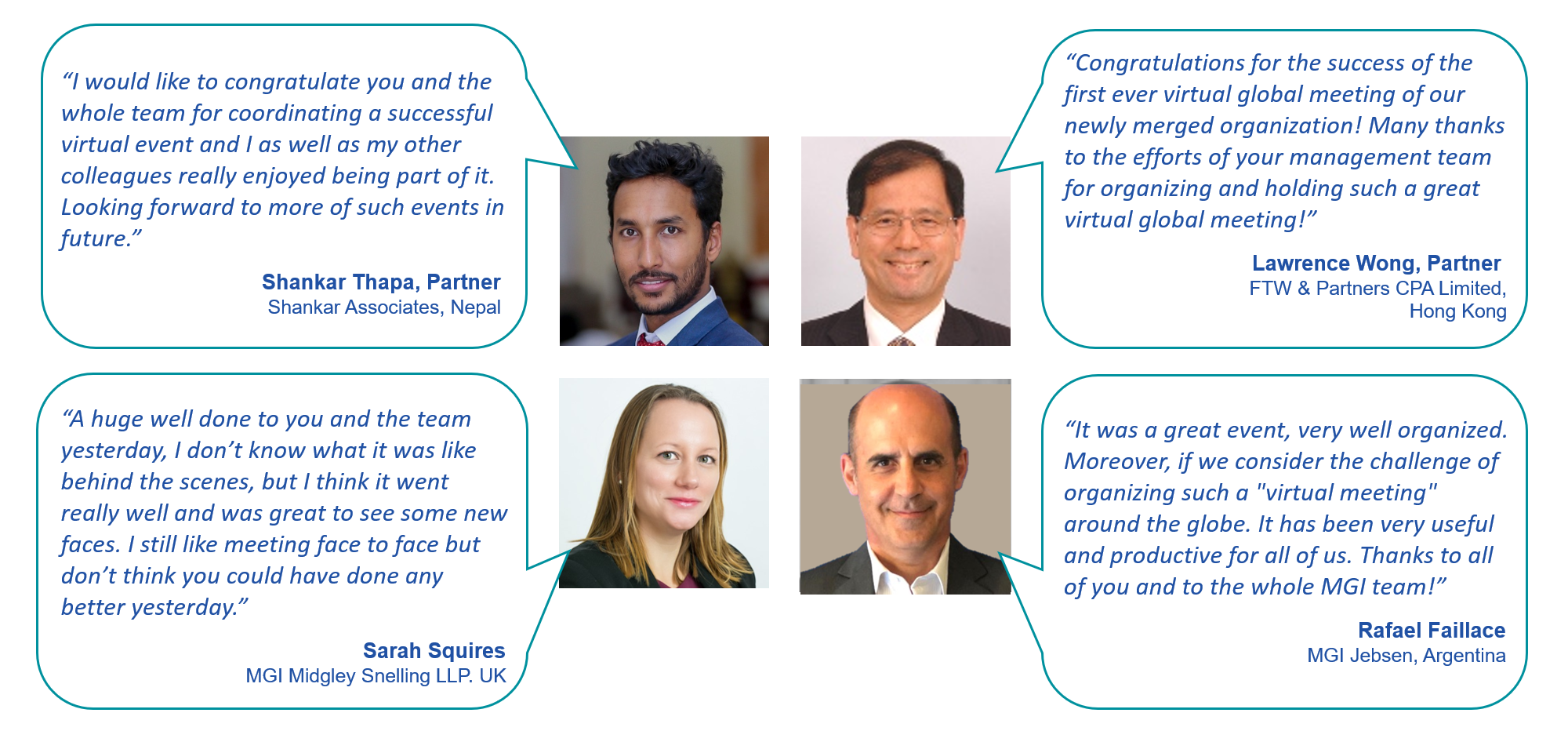 Recordings of all the day's presentations are available to watch on demand using the below links. For the password, please contact [email protected] or visit the Meetings Highlights page in the member area.
Global updates and MGI/CPAAI news

Global update: Roger Isaacs + Lawrence Wong
Global update: Roger Isaacs + Andreas Klier
Global update: Roger Isaacs + Cuauhtémoc Alfonso
CPAAI and MGI Worldwide: The way forward: Maxine Brock, Michael Parness
Meet our newest members
Regional updates

Asia Region update: Audrey Danasamy
Middle East North Africa Region update: Audrey Danasamy
Australasia Region update: Casey Lightbody, Greg Winnett
Europe update: Zoltan Paksy
UK&I update: Paul Winder
Africa update: Audrey Danasamy
North America update: Joe Tarasco
Latin America (including Mexico) update: Andea Pallas, Fernanda López
Guest speakers


Global economics; how do we pay for Covid 19?: Paul Johnson
Leadership and managing uncertainty in the COVID world and beyond: Priya Guha
A (post-) Covid World - The Human Perspective: Thimon de Jong
MGI Worldwide with CPAAI is a top 20 ranked global accounting network and association with almost 10,000 independent auditors, accountants and tax experts in some 460 locations in over 100 countries around the world.