Looking for advice on setting up business in Ireland? In the latest Doing Business Guide, member firm Copsey Murray, provides valuable insights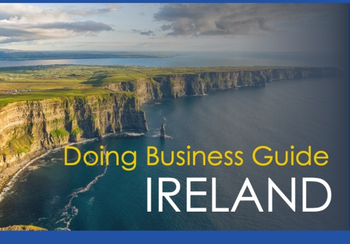 In our newly published Doing Business Guide, Dublin-based member firm Copsey Murray, provides useful information about the Irish business environment, explains the basics of setting up business, and gives an outline of the Irish tax regime.
Why Ireland?
Many overseas companies have chosen Ireland as their base from which to do business. These companies are involved in a wide range of activities in sectors such as engineering, information technologies, health services, pharmaceuticals, financial and internationally traded services.

14 of the top 15 global medical tech firms, 17 of the top 20 global software firms, 20 of the top 25 global software firms, 20 of the top 25 leading financial services firms and 9 of the top 10 global pharmaceutical companies have based themselves in Ireland.

Ireland is ranked 24

th

among 190 economies in the World Bank's latest 'Ease of doing business' list.

Ireland has one of the world's most global and open economies which is helped by ease of global communication (time differences and telecoms infrastructure) and impressive multilingual availability.

Ireland has an excellent availability of third level graduates, technical knowledge and business capabilities
Ireland is an open economy and offers an attractive location for overseas corporates and individuals looking to establish themselves in the single European market. A range of Government incentive packages are available to business's establishing and operating in Ireland. These range from direct grant assistance to a variety of tax and investor incentives. These are administered both centrally through a variety of government agencies and locally through regional enterprise boards and administrators of special investment zones/ schemes. Businesses in Ireland may also be eligible for EU grants and other EU incentives in certain circumstances.

About Copsey Murray
Copsey Murray provides a wide range of consultancy and compliance services to individuals and businesses.
Established for over forty years, its head office is primely located in the city of Dublin, the commercial and financial centre of Ireland, with additional offices in Arklow County Wicklow, and Naas County Kildare. Its team of experienced professionals prides itself on its reputation and on working closely with clients to help them achieve their goals.
"As a firm, we are proud of our long standing reputation of delivering a quality service to our Irish and international clients for almost 50 years."

Colm Byrne, Partner
Copsey Murray
For more information contact Robert Bulman ([email protected]) or David Kenny ([email protected]), our MGI Worldwide Key Contacts at Copsey Murray, or visit the firm's profile page or website.
MGI Worldwide with CPAAI, is a top 20 ranked global accounting network and association with almost 9,000 professionals, accountants and tax experts in some 400 locations in over 100 countries around the world.