The Australian Federal Government announces budget for 2023-24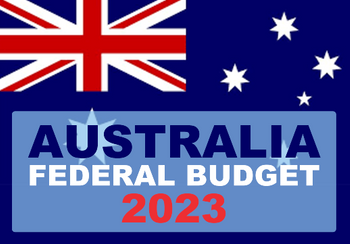 On Tuesday 9 May 2023, Treasurer Jim Chalmers presented the 2023 Australian Federal Budget.
The 2023 Australian federal budget delivers the first surplus in 15 years. Treasurer Jim Chalmers predicts that the Australian domestic economy will slow down to only 1.25% in 2023/24 from 3.25% this fiscal year.
This is mainly due to the Reserve Bank of Australia's increase in interest rates by 375 basis points. This tightening is expected to have a positive effect on inflation, which Chalmers estimates will slow down to 3.25% by mid-2024 from its current rate of 7.0%.
The government's relief package for energy bills is anticipated to reduce consumer price inflation by 0.75 percentage points in 2023/24. However, the higher interest rates have led to a significant increase in the cost of funding the government's debt, with debt repayments being the fastest-growing expense.
New cost of living measures
To provide relief without adding to inflationary pressures, the Treasurer has announced a range of cost-of-living measures.
These include up to $3 billion in energy bill relief, $1.3 billion for home energy upgrades, extension of access to the Parenting Payment (Single), and increased payments for JobSeeker, Youth Allowance, and rent assistance. Additionally, small businesses will benefit from a temporary increase in the instant asset write-off threshold to $20,000 for 2023-24.
Inflation & tax
The budget is expected to have a surplus of $4.2 billion in 2022-23, but an underlying cash deficit of $13.9 billion is predicted for 2023-24. The global economic outlook is uncertain, with inflation and rising interest rates expected to slow real GDP growth to 1.5% in 2023-24 before rising to 2.25% in 2024-25.
Inflation is expected to fall to 3.25% in 2023-24 and return to the Reserve Bank's target range of 2-3% in 2024-25, thanks in part to the government's cost-of-living measures.
The government is also taking steps to improve the sustainability of the tax system. This includes reducing tax concessions for superannuation balances over $3 million, timely payments of tax and superannuation, and reforms to tax settings for offshore liquefied natural gas projects.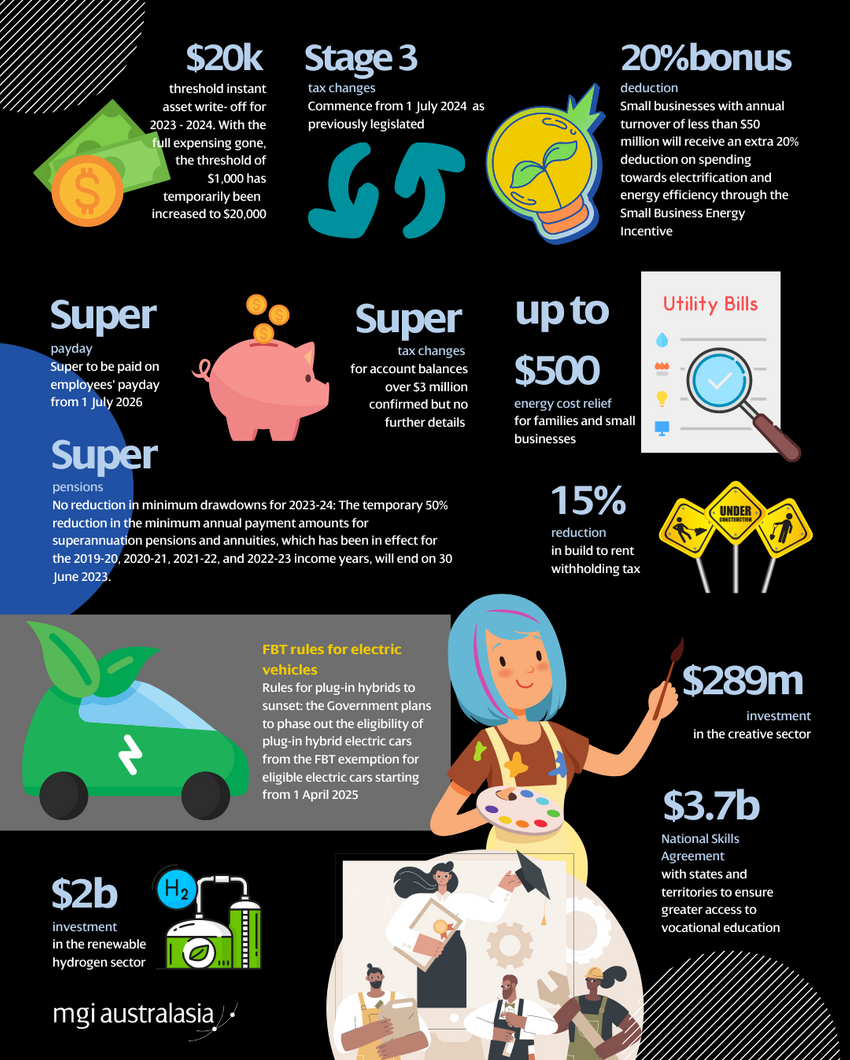 For a more comprehensive perspective read the full 2023 Australian Federal Budget summary.
MGI Worldwide, is a top 20 ranked global accounting network and association with almost 9,000 professionals, accountants and tax experts in some 400 locations in over 100 countries around the world.