Watch the NEW MGI Africa member video as member firms from across the region highlight the reach of the network and promote local business opportunities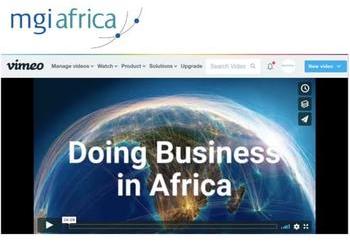 With clips recorded by members during the 2019 Africa regional meeting in Dubai, MGI Africa is proud to present a NEW video promoting the reach of the network across the continent and spotlighting opportunities for doing business in Africa.
With representation in 12 countries and a total of 21 locations, MGI Africa members are able to service clients in key business locations. In this video, members introduce their firms and provide a snapshot of the business climate in their respective countries.
It is hoped that the video will also assist members in promoting their firm's capacity to support their clients throughout Africa and beyond. This video encompasses what it means to be a member of a global accounting network.
Member highlights
Haruna Nma Yahaya, Managing Partner at Haruna Yahaya & Co, Nigeria
"Nigeria is a good country for investors, ranking highly for ease of doing business [and our firm is able to] provide qualities services that are anchored on professionalism and integrity."
Abraham Petersen, Partner at MGI Bass Gordon, South Africa
"Cape Town is considered the economic gateway to trade and investment in Africa […] It's great to be part of the MGI family – it gives us a global footprint and allows us to expand beyond our borders."
Felix Kimoli, Partner at MGI Alekim LLP in Nairobi, Kenya
"Kenya is the home of technology and we are proud to be associated with money transfer through the M-Pesa platform."
Baraka Cassian, Managing Partner at Cassian & Associates, Tanzania
"MGI has been great for us, exposing us to different environments, different people and giving us access to expertise all around the continent."
Daddy Nkuvu Wena, Partner at MGI Strong NKV, DRC
"We have, in our country, the biggest reserve of copper and cobalt, used to make electric batteries [for] cars and planes.
Manjit Kothari, Managing Partner at MGI HEM & Thakker LLP, Uganda
"MGI enables us to connect internationally and service our clients growing requirements."
Fanuel Pange, Managing Partner at MGI MCA Global, Zimbabwe
"As a member of MGI we have access to regional and international expertise and a vibrant team of partners from all over the world who are friendly and eager to assist."
Thierry Rajaona, Managing Partner and MGI Qualex, Madagascar
"MGI has an entrepreneurial spirit, like us […] and membership helps us develop relationships with other small and medium enterprises."
MGI Africa would like to extend their thanks to the MGI Worldwide marketing team who recorded and edited the video.
MGI Africa is part of MGI Worldwide with CPAAI, a top 20 ranked global accounting network and association with over 10,000 independent auditors, accountants and tax experts in some 460 locations in almost 100 countries around the world.