László Killik of MGI-BPO, shares a detailed overview of the Agreed Upon Procedures for ISRS 4400
MGI Worldwide accounting network member László Killik, partner at MGI-BPO based in Budapest, Hungary, has published a white paper explaining the Agreed Upon Procedures for the revised ISRS 4400, with special focus on the key areas.
Overview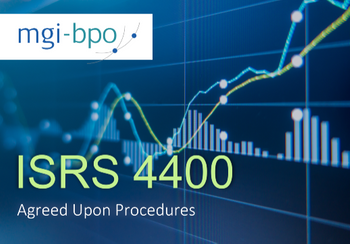 Often organisations do not need a complex audit such as a statutory audit. Globally there is an increasing need to improve the reliability of financial and non-financial information according to some criteria.
The areas where third-party verification may be most needed are financing, grants or compliance with legal obligations.
Educational aims of the paper:
to learn about the content of ISRS 4400 (revised), including the most important new features and changes
to describe the key features of an engagement and reporting under ISRS 4400 that distinguish it from an assurance engagement and reporting to enable auditors
- to identify when the application of ISRS 4400 (revised) may be relevant, and
- to make these differences clear to the client as well and to understand that the procedures that the client expects the auditor to perform should be jointly (in writing) defined and agreed upon by the client and the auditor
to know which are the typical agreed-upon procedures engagements
to illustrate through practical examples the typical agreed-upon procedures and reports for some typical engagements in accordance with the requirements of ISRS 4400 (revised).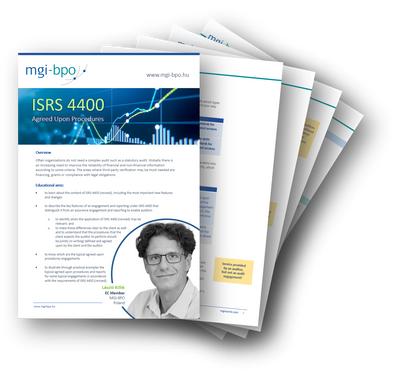 Read the ISRS 4400 paper HERE
About MGI-BPO
MGI-BPO has been a member of MGI Worldwide since 2005 and László currently serves on the International Committee representing Europe and the Executive Committee. MGI-BPO's main values as a firm are professional competence, due care, objectivity, fairness, and international relations. The community of MGI-BPO is closely bound by its faith in these values that underpin its daily operations.
For further information contact László Killik [email protected] or visit MGI-BPO's profile page or their website.

MGI Worldwide with CPAAI, is a top 20 ranked global accounting network and association with almost 9,000 professionals, accountants and tax experts in some 400 locations in over 100 countries around the world.