MGI Worldwide's Dan Geltrude #3 on the Power 50 list of most influential accountants in State of New Jersey, USA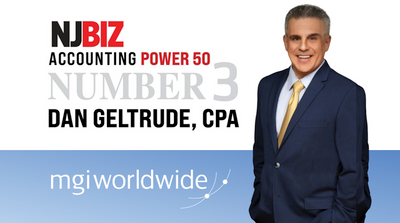 MGI Worldwide and MGI North America are thrilled to announce that New Jersey member Dan Geltrude, CPA, Founder and Managing Partner of Geltrude & Company is ranked Number 3 on the Power 50 list of most influential accountants in State of New Jersey, USA by NJBIZ. Dan moves up from Number 5 in last year's list.
Known as 'Americas Accountant', a well-respected CPA, advisor, and industry leader, Dan is one of the most influential professionals in public accounting in the USA. This honour is well-deserved, as Dan has dedicated his career to enhancing the state of public accounting for not only today's CPAs, but for many future generations of accounting leaders.
Dan has also earned accolades from peers, being named as one of the top 100 most influential accountants in the U.S. by Accounting Today magazine and receiving a 2022 Innovation Award from NJCPA. He has sat - by appointment of the governor - on the State Board of Accountancy since 2010.
He's also an adjunct accounting professor at Montclair State University, an Accounting Advisory Board member for both Montclair State and Rider University, and sits on the board of trustees for the business school at Saint Peter's University.
In addition, Dan developed a Work for Credit model for CPA students. St Peter's and PricewaterhouseCoopers completed a pilot program along those lines this past May.
To read more about he ways in which Dan is helping to move the accounting profession forward, and in particular his Work for Credit progrmame click here.

You can find out more about Geltrude & Company, LLC by visiting their company website or member profile page.
MGI Worldwide with CPAAI, is a top 20 ranked global accounting network and association with almost 9,000 professionals, accountants and tax experts in some 400 locations in over 100 countries around the world.